By Nkepile Mabuse
CNN






MUSINA, South Africa (CNN) -- Doctors worry about the woman sitting on a bed inside the large tent, an IV in her arm. Chipo Matewe, 23, is eight months pregnant and stricken with cholera.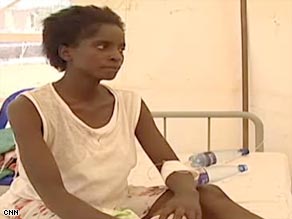 Medics worry that eight-months-pregnant Chipo Matewe is too weak from cholera to give birth.
"When I started feeling sick, my whole body was so dry. I didn't think I would be alive until now, because even the baby -- my stomach was so tight ... it was not kicking at all. But now it's kicking slowly, I don't know what's going on," she said. Medics are concerned she is just too weak to give birth to a healthy child.
Matewe is from Masvingo in Zimbabwe -- one of hundreds of people so desperate for medical help that they have crossed the border illegally into South Africa.
Cholera, a waterborne disease that causes diarrhea, dehydration and, if not treated, death in a matter of hours, is widespread in Zimbabwe but help is not.
At least 565 people in Zimbabwe have lost their lives in the outbreak, according to a statement from the United Nations Humanitarian Affairs Office on Wednesday. Doctors in Zimbabwe, however, say that more than 1,000 have died. The U.N. says that about 12,000 more people are suspected to be infected.
Don't Miss
Aid organizations inside Zimbabwe warn that the contagious disease is spreading fast since raw sewage from burst pipes near the capital, Harare, flowed into wells, rivers and streams, the only source of drinking water for many Zimbabweans.
The country's public health care system is collapsing with shortages of resources and staff. Clinics run by aid agencies are being swamped by the sick, some brought in by wheelbarrow or cart.
So the sick and the dying head to Musina, a town on the South African side of the porous border.
Hundreds have arrived since the middle of last month, desperate for help. At least five were too sick to save, including one Zimbabwean who died upon reaching the hospital.
The hospital looks like a war zone. Tents have been set up and packed with cots and IVs for cholera patients. Recently, one tent was filled with victims, including a toddler who narrowly escaped death, and grown men in diapers.
The doctors are doing whatever they can to treat sick people such as Chipo Matewe and her fetus, but only time will tell whether they are successful.
Time might cause problems of its own if cholera gets a foothold inside South Africa as well.
Just a few miles from the hospital, nearly 1,000 Zimbabwean asylum-seekers are living and sleeping in an open field under conditions ideal for cholera to flourish.
A cholera carrier who neglects to wash his or her hands after using the bathroom can easily pass on the bacteria that live in human feces.
"There is no one who is safe, there is no one who is immune," said Sabelo Sibanda, a human rights activist. iReport.com: Share your questions for Christiane Amanpour
"This situation here, if allowed to carry on indefinitely, will explode."
His fears go beyond a medical crisis, worrying that South Africa could see another outbreak of xenophobic violence against Zimbabweans accused of bringing in disease.
The South Africa government says it is still working on the problem, while Zimbabwean President Robert Mugabe said he is getting cholera vaccines from China.
E-mail to a friend

All About Cholera • Zimbabwe • South Africa • Robert Mugabe