HARARE, Zimbabwe (CNN) -- Lawyers for Zimbabwe's main opposition party have petitioned the attorney general for the urgent release of 15 activists arrested a month ago, the party said Tuesday.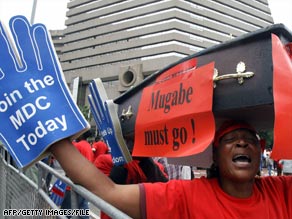 MDC supporters demonstrate against Robert Mugabe on November 9 in Johannesburg, South Africa.
The whereabouts of the activists remain unknown, the Movement for Democratic Change said in a statement. They were arrested 27 days ago during pre-dawn raids in their homes in Banket, in Mashonaland West province, the party said.
The 15 activists include Concillia Chinanzvavana, the MDC Mashonaland West provincial chairperson of the Women's Assembly; her husband, Emmanuel Chinanzvavana, a local councilor; Fidelis Chiramba, a district chairperson; and the 2-year-old child of two other arrested activists, the party said.
Last week, the MDC confirmed the arrests of 12 party activists. At the time, the party confirmed that Concillia and Emmanuel Chinanzvavana were among those arrested.
It was unclear whether the 15 activists reported missing Tuesday included all of the 12 reported missing last week.
The activists' arrests are illegal, the party said, because Zimbabwe's High Court issued an order November 11 urging their urgent release or appearance in court.
The arrests also violate the power-sharing agreement signed in September between President Robert Mugabe of the ruling ZANU-PF party and MDC leader Morgan Tsvangirai, the party said.
Don't Miss
The MDC said it would call for the intervention of the regional Southern African Development Community (SADC) and the African Union.
"The role of the state is to protect its citizens and not to illegally detain them," a statement from the MDC said. "The MDC believes that ZANU-PF's latest act of insincerity is a major threat to the dialogue process. We urge the state to free them now!"
The September power-sharing agreement has yet to take effect. The MDC accuses Mugabe of grabbing all key ministries such as home affairs, information, local government, foreign affairs and defense, and says it wants an "equitable" distribution.
In addition to the Chinanzavavanas and Chiramba, the missing activists are listed by the MDC as Ernest Mudimu, an MDC parliamentary candidate; Fanwell Tembo, a party youth organizer; Terry Musona, MDC deputy provincial secretary; party activists Lloyd Tarumbwa, Collen Mutemagawo, Pieat Kaseke, Gwenzi Kahiya, Tawanda Bvumo, Agrippa Kakonda, Larry Gaka, and Mutemagawo's wife, Violet Mupfuranhehwe. Mutemagawo and Mupfuranhehwe are the parents of the missing 2-year-old, the MDC said.
E-mail to a friend

All About Zimbabwe • Robert Mugabe