(CNN) -- The number of girls being raped has increased sharply since fighting intensified in the Democratic Republic of Congo, a humanitarian group said Tuesday.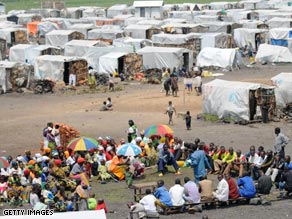 A survey of children at refugee camps finds rapes of girls under age 17 are increasing.
Also, the recent fighting between rebels and the Congo government has heightened the threat of children being recruited as soldiers, said World Vision.
"A silent war has been waged against women and children," said Sue Mbaya, the humanitarian group's Africa advocacy director. "Women and girls in the hundreds have been targets of opportunistic and brutal rape, while children are also being targeted for recruitment or re-recruitment as child soldiers."
World Vision said they surveyed children at six refugee camps in the country, finding that 120 girls under the age of 17 reported being raped in October. That's compared to five reported cases in April and June.
Mbaya was scheduled to address the issue Tuesday during a report to the United Nations Security Council.
The fighting, which began in August, prompted the U.N. Security Council to approve sending more than 3,000 troops in coming weeks to bolster the 17,000-strong peacekeeping force already there. A U.N. envoy has also been sent to Congo to conduct peace talks between the government and rebel leader Laurent Nkunda.
Don't Miss
The spiraling violence in eastern Congo has displaced an estimated 250,000 people -- many of whom have fled to refugee camps.
The fighting is spurred by lingering tensions over the 1994 slaughter of ethnic Tutsis by majority Hutus in neighboring Rwanda. Nkunda has said his forces are fighting to defend Congolese Tutsis from Hutu militants who escaped to Congo.
E-mail to a friend

All About Democratic Republic of the Congo • Laurent Nkunda • War and Conflict