(CNN) -- Rebel leader Laurent Nkunda wants to merge his forces with the Democratic Republic of Congo's army as part of a peace agreement, a mediator said Monday.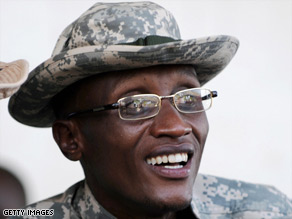 Rebel leader Laurent Nkunda has urged the Congolese government to find ways to protect minority groups.
Former Nigerian President Olusegun Obasanjo told reporters that talks between Nkunda and Congo's government are progressing.
Nakunda "has made demands that I do not consider outrageous and demands that the government of Congo can meet," said Obasanjo.
The rebel leader has also urged the Congo government to find ways to protect minority groups in the country, Obasanjo said.
Obasanjo, a U.N. special envoy, said the ongoing talks may quell violence in the country. More negotiations have been scheduled for Friday.
The recent fighting has prompted the U.N. Security Council to approve sending more than 3,000 troops in coming weeks to bolster the 17,000-strong peacekeeping force already there.
The goal is to stop the violence that has deepened the stark humanitarian crisis in North Kivu province of Congo.
The fighting has displaced an estimated 250,000 people many who have fled to refugee camps.
Fighting broke out in eastern Congo at the end of August between government forces and Nkunda's rebels.
The fighting is spurred by lingering tensions over the 1994 slaughter of ethnic Tutsis by majority Hutus in neighboring Rwanda.
Nkunda says his forces are fighting to defend Congolese Tutsis from Hutu militants who escaped to Congo.

E-mail to a friend

All About Laurent Nkunda • Democratic Republic of the Congo • Rwandan Hutu Rebels