HARARE, Zimbabwe (CNN) -- The whereabouts of a dozen opposition supporters -- including a mother and her 2-year-old daughter -- remain unknown, weeks after they were seized by Zimbabwean security forces, the U.S. ambassador to Zimbabwe and a human rights lawyers group said Thursday.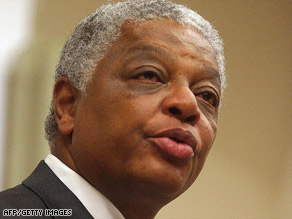 U.S. Ambassador James McGee says Botswana denies the 12 were invloved in paramilitary camps.
"Zimbabwean security authorities seized 12 individuals, including the mother and a 2-year-old child, affiliated with the Movement for Democratic Change, the opposition party," James McGee said Thursday.
"The adults are reportedly being interrogated for their alleged involvement in paramilitary camps in Botswana -- a charge that the Botswanan government had roundly denied," McGee said.
Bright Matonga, Zimbabwe's deputy information minister, said in response: "What is interesting is the involvement of America in the case. It would help if the MDC and their masters would ... be specific instead of just trying to create a bad image of Zimbabwe. There is nothing to comment [on] unless we get something concrete, not this, cooked-up stories."
It was not immediately clear when the alleged arrests occurred. McGee said they took place from October 27 through November 1, while the Zimbabwe Lawyers for Human Rights (ZLHR) said they occurred between October 30 and November 1.
MDC spokesman Nelson Chamisa, who confirmed the detentions in a written statement Wednesday, said only that the supporters' whereabouts where unknown 21 days after their "abductions," which would make the arrest date October 29.
He said they were "abducted in predawn raids" at their homes in Banket and Chinhoyi, in Mashonaland West province.
The ZLHR said the police then "shuttled" them from police station to police station in Harare.
"The MDC, its lawyers and relatives have been denied access to them," Chamisa said.
A high court ruled the detention of the 12 unlawful and issued an order November 11 that they be brought to a magistrate court that day, the ZLHR said. As of Thursday, the Zimbabwean authorities had not complied, the MDC and the rights group said.
"To this time, the order remains contemptuously defied by the police, all of whom are aware of the existence of the order and its contents," the ZLHR said in a written statement.
The MDC identified two of the 12 as Concilia Chinanzvavana -- the Women's Assembly provincial chairwoman for Mashonaland West -- and her husband, Emmanuel Chinanzvavana, who is a councilor in the town of Banket.
The ZLHR said others included Fidelis Chiramba, Pieta Kaseke and her 2-year-old daughter.
E-mail to a friend

All About Zimbabwe • Movement for Democratic Change • Nelson Chamisa