By Ken Shiffman and Scott McGhee
CNN Senior Producers
GIKONGORO, Rwanda (CNN) -- The spring and summer of 1994 was a time of unspeakable horror for Rwanda -- and for Juliette Mukakabanda.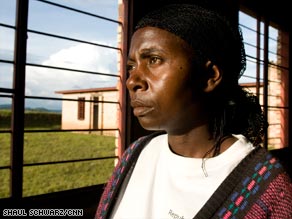 Juliette Mukakabanda: "Despite the loss ..., I'm really thankful to God who protected my daughter and me."
As the world stood on the sidelines, government militias and trained civilian mobs murdered between 800,000 and a million people, including Mukakabanda's husband and two of their children.
In the aftermath of the 100-day killing frenzy, many Rwandans created memorials to make sure the genocide and its victims were never forgotten.
There are churches that display skulls; there are signs that read "Never Again"; and then there are the shocking displays at the former Murambi Technical School, where tens of thousands were massacred.
Rooms filled with skeletons force visitors at Murambi to confront the reality of the genocide, in which Hutu government extremists were bent on exterminating all Tutsis.
Mukakabanda's husband and children were killed at Murambi. Today, she is a tour guide at the memorial. Her story is a surreal tale of terror, tragedy and survival.

Watch Mukakabanda tell her story at the scene of the massacre »
Although she is a Hutu, Hutu mobs said her nose was that of a Tutsi and threatened to kill her. She and her youngest child were spared only after one man in the mob came to their defense.
Don't Miss
"They raised machetes to slaughter me," Mukakabanda said. "At that point, I prayed to God and said, 'My God, if you save me and my daughter, I will raise her and we will both work for you.'
"As I was praying, one young man among the killers raised his machete and declared to kill anyone who dares to touch me or my child. All the killers lowered their weapons and left.
"Despite the loss I experienced here, I'm really thankful to God who protected my daughter and me. Many families were exterminated or some parents escaped but lost all their children to the killers."
E-mail to a friend