(CNN) -- Nations are abdicating their responsibility by failing to provide enough military aid to the U.N. mission in the war torn Democratic Republic of Congo as it struggles to stop brutal violence, the head of Oxfam International in the Congo said Thursday.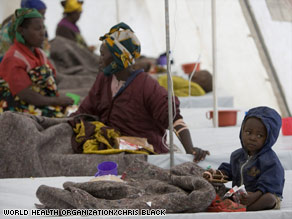 Camp dwellers are being treated for multiple health conditions, including cholera and malaria.
"There appears to be no urgency in the international community's talks on the crisis, but this is a deeply urgent situation. The world is failing in its responsibility to protect the Congo's innocent civilians," Juliette Prodhan said in a written statement.
"There has been an increase in incidents of forced labor, rape and widespread brutality," according to assessments carried out by the humanitarian group over the past week, Prodhan said. "Armed men from all sides prey upon those who have sought 'sanctuary' from the fighting in North Kivu (province)."
Fighting broke out in the province at the end of August between government forces and rebels led by Gen. Laurent Nkunda.
The fighting was spurred by lingering tensions over the 1994 slaughter of ethnic Tutsis by majority Hutus in neighboring Rwanda. Nkunda says his forces are trying to defend Congolese Tutsis from Hutu militants who escaped to Congo.
In the past week, Oxfam workers visited camps and communities in Kibati, just north of the city of Goma; Sake and Minova, south of Goma; and Kanyabayonga, north of Rutshuru, Prodhan said.
"Findings reveal that civilians continue to face widespread brutality after they have fled from the heart of the fighting."
In Kanyabayonga, 30 kilometers (19 miles) north of the conflict's front line, increasing numbers of armed men are raping, looting and harassing people, she said. More than 66 cases of rape were treated in area clinics last week, Prodhan added.
In the Kibati area, and further south toward Sake and Minova, forced labor and sexual violence is escalating, with residents forced to carry water and firewood for armed men. Women are threatened with rape in Kibati, and have been attacked when seeking food in the banana fields or collecting firewood, according to her.
Meanwhile, the World Health Organization reported Thursday that it has launched an anti-cholera operation after cases have tripled in some areas to 150 a week, the agency said in a news release.
In North Kivu, at least 997 cholera cases were reported from early October to early November, with most recorded in Rutshuru (466), Goma (263) and Karisimbi (145). In South Kivu during that same period, 855 cholera cases have been reported, it said.
Cholera is mainly transmitted through contaminated water and food and is linked to poor sanitation. It is characterized by diarrhea and vomiting and, untreated, can quickly prove fatal.
The U.N. peacekeeping force in Congo, known by its French acronym, MONUC, has been unable to stop the violence, and U.N. Secretary-General Ban Ki-moon has asked the European Union to send 3,000 troops to the province.
French Foreign Minister Bernard Kouchner told CNN's Christiane Amanpour on Wednesday he didn't know whether EU countries could be persuaded to send more troops to Congo, which already has a foreign force of 17,000 soldiers. France holds the EU's rotating presidency.
Some of the most intense fighting since Nkunda declared a unilateral cease-fire October 29 took place earlier this week. Since Nkunda's declaration, both sides have accused the other of violating the cease-fire in skirmishes that the United Nations and the Congolese government say have killed hundreds of people.
The number of people displaced after weeks of fighting is putting enormous constraints on humanitarian groups, Chris Black, a World Health Organization spokesman, told CNN Thursday.
More than 250,000 people have been displaced by the conflict -- adding to roughly 800,000 already driven from their homes by past violence, the United Nations says.
Cholera has been sweeping through one camp holding about 20,000 people, Black said. Vaccinations are being given, but sanitary conditions are poor and there is little clean water, he said.
The people face physical and emotional suffering, he added, and aid organizations are partnering to provide help.
"It's a traumatized population of people who didn't have very much," he said. "They've been on the road now for weeks, and they've lost everything they have, and they're in a very vulnerable situation."
E-mail to a friend

All About Democratic Republic of the Congo • United Nations • Laurent Nkunda
All About Democratic Republic of the Congo • Angola