By Dayle Haddon
Special to CNN





Editor's note: Dayle Haddon is a UNICEF Ambassador, a spokesman for L'Oreal and best-selling author of "The Five Principles of Ageless Living."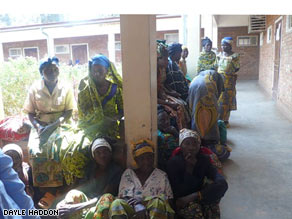 Rape victims wait for treatment at hospital. Many were too ashamed to look at Dayle Haddon.
BUKAVU, Democratic Republic of the Congo (CNN) -- Jeanne is one of the "lucky ones."
She was 15 years old when armed rebels attacked her village in the Democratic Republic of the Congo. She fled her home with her uncle into the night, but the rebels caught them, stabbing her uncle as he tried to protect her. Then they dragged her into the forest, tied her to a tree and raped her on and off for a month.
"No one came for me,'' says Jeanne, now 18. "No one asked about me or where I had been. No one from my family looked for me."
Jeanne is lucky because she found refuge. She discovered a new family in the General Referral Hospital of Panzi in Bukavu, Congo. Thousands of Congolese women are not so fortunate. Their bodies and souls have been brutalized: systematically raped by marauding rebel soldiers during a 10-year-old war; ostracized by their husbands and villages like modern-day lepers.

Watch Jeanne tell her story »
I met Jeanne at the Panzi hospital while traveling to Congo on behalf of the Enough Project, an advocacy group that seeks to end crimes against humanity. Enough is one of several groups in Congo that are trying to rebuild the lives of the country's women. UNICEF is another. It funds the Panzi Hospital, which is an oasis of calm and order in a violent country.
The women who visit the hospital risk a long and dangerous journey over congested and difficult dirt roads. On the day of my visit, a group of them gather in the courtyard.
Their pain is evident. A few women can barely walk or have to shuffle along with a large stick for support, as if they are very old -- and in a way, they are. All these women have been violently raped
Don't Miss
I pass them as they wait to see the doctor. Puddles of liquid have collected under some of the women sitting on the courtyard benches. The smell of their urine hits me.
I catch the movement of balled up rags nervously crammed into their laps as they try to stop the flow.
I walk by with my eyes drawn downward. As I look up, I meet their eyes. They quickly look away, embarrassed that I have seen. I look away as well.
The women's inability to control their bowels and urine comes from repeated rapes. The medical term is fistula. The walls of their uterus and bladder have been broken from repeated gang rapes by rebel soldiers, objects shoved roughly inside them and even guns fired into their vagina.
"A man with a gun can do whatever he wants," Cecile Mulolo, the psychologist at Panzi tells me.
I ask Mulolo how old is the youngest and oldest rape victim at Panzi.
"The oldest is in her 80s," she replies, "and the youngest is 16 months."
This is no simple act of rape. This is a systematic and calculated way to destroy the country. The violated women's husbands and families often reject them. The rebels know this. By breaking the bonds of family and village, the rebels manage to rip the fabric of these tight-knit communities.
That's what they did to Jeanne.
She is dressed in a purple, cotton dress dotted with white flowers when I meet her. She is very pretty. Her haunted brown eyes never leave my face when I talk to her. She never smiles.
Jeanne tells me that she has been at the Panzi Hospital for three years. She has been operated on five times and is depressed because the operations have not been successful. But the kindness of the hospital staff has given her strength to go on.
"They listen to me," she says in a soft, whispery voice. "They care about me.... Now the hospital is my family."
As for her future, she sees little hope for herself and others like her.
"I want to fight for the rights for women but a woman raped can do nothing," she tells me, with no hint of anger in her voice. "I don't know my future. I have lost belief."
I give Jeanne some tokens: nail polish, candy, a pair of inexpensive earrings and a little money to help her along. But they feel so ineffective. She receives my gifts with a sad, stoic expression.
Then I kneel down beside her and ask if I can give her a hug. She nods. I hug her, and she holds me tight, not letting me go.
I whisper to her. She now has a new family member, an aunt, one who lives far away but is still her aunt. Then I see something I haven't seen during our entire conversation -- a flicker of a smile.
When I leave the room I turn to say good-bye. She hasn't moved from her chair but her smile is still there. It lights up her face.

She is beautiful.
The opinions expressed in this commentary are solely those of Dayle Haddon.
E-mail to a friend

All About Democratic Republic of the Congo • UNICEF