GWERU, Zimbabwe (CNN) -- Zimbabwe's opposition leader said Sunday that he will not sign a power-sharing deal unless President Robert Mugabe relinquishes some of his power.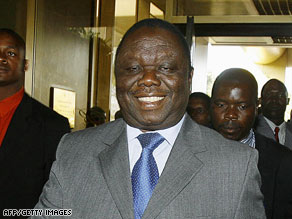 Morgan Tsvangirai says he would rather the MDC made no deal than a "bad deal" with President Mugabe.
"We would rather have no deal than have a bad deal," Morgan Tsvangirai said at rally commemorating his Movement for Democratic Change party's nine-year anniversary.
Tsvangirai spoke a day before South African President Thabo Mbeki heads to Zimbabwe's capital, Harare, to help bolster the stalled power-sharing talks.
Tsvangirai told the crowd of MDC supporters not to "be afraid" of Mbeki, who is an ally of Mugabe but is mediating the talks on behalf of the Southern African Development Community (SADC).
"He's just a facilitator and he will not be signing," the opposition leader said. "He has to convince me to sign."
The MDC rally took place in the town of Gweru -- about 300 kilometers (186 miles) southwest of Harare.
The power-sharing talks are aimed at breaking the political stalemate between Mugabe's ZANU-PF party and the MDC opposition.
Tsvangirai won the most votes in Zimbabwe's March presidential election, but not enough to avoid a run-off, according to the government's official count.
Tsvangirai withdrew from the June 27 run-off days before the vote, saying Mugabe's supporters had waged a campaign of violence and intimidation against opposition supporters.
E-mail to a friend

All About Zimbabwe • Robert Mugabe • Morgan Tsvangirai