HARARE, Zimbabwe (CNN) -- Police in Zimbabwe arrested more opposition lawmakers Wednesday as President Robert Mugabe announced he would include opposition members in his new Cabinet.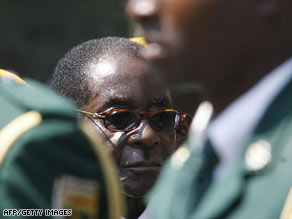 Zimbabwean President Robert Mugabe inspects the guard of honour at the opening of parliament in Zimbabwe.
Police said they arrested five members of parliament from the opposition Movement for Democratic Change (MDC) since Monday. Police said the arrests were not politically motivated and were in connection with violence that rocked Zimbabwe in the run-up to the June 27 presidential run-off.
"These (parliament members) have been on the police wanted list which we made public," some time ago, said police spokesman Wayne Bvudzijena. "We have been looking for them for a long time since the offenses were committed."
He said some "had fled the country to Mozambique, South Africa, Botswana and so forth."
The Movement for Democratic Change, however, said police made the arrests to reduce the numbers of opposition lawmakers in parliament.
"The arrests are harassment and an attempt to undermine our parliamentary majority," said Luke Tamborinyoka, the opposition party's information director. "We expected that retribution after having shown Mugabe that he is not welcome in parliament."
On Tuesday, members of the Movement for Democratic Change heckled and jeered Mugabe during his speech to open the first parliamentary session since the country's disputed elections. At times, they drowned out his words, in a sign that the political divide in Zimbabwe is widening.

Watch more about Mugabe's disrupted speech »
Opposition members also handed Mugabe a petition in which they challenged his legitimacy and declared his opening of parliament illegal.
Still, state media reported that Mugabe believes a government of national unity is still achievable.
Zimbabwe's state-run daily newspaper, The Herald, quoted Mugabe on Wednesday saying he would soon appoint a Cabinet that would include members of the Movement for Democratic Change if they want to join, although the president said the opposition party "apparently" doesn't want to join.
"The Cabinet that I had was the worst in history," Mugabe is quoted as saying. "They (only) look at themselves, they are unreliable, but not all of them. The people are suffering."
Power-sharing talks between ZANU-PF and the opposition -- mediated by South African leader Thabo Mbeki -- are scheduled to resume this week.
Morgan Tsvangirai won the most votes in the March presidential election, but not enough to avoid a run-off, according to the government's official count. He withdrew from the June 27 run-off days before the vote, saying Mugabe's suppo-rters had waged a campaign of violence and intimidation against opposition supporters.
E-mail to a friend

All About Zimbabwe • Robert Mugabe • Morgan Tsvangirai