JOHANNESBURG, South Africa (CNN) -- Talks between Zimbabwe's political rivals will resume Friday afternoon and continue on the fringes of this weekend's regional summit in Johannesburg, George Sibotshiwe, the spokesman for Zimbabwe's opposition leader, said Friday.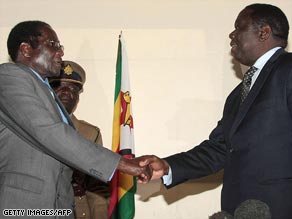 Robert Mugabe (left) and Morgan Tsvangirai met last month for the first round of talks.
Morgan Tsvangirai, who heads the Movement for Democratic Change, has been holding power-sharing talks in Zimbabwe with President Robert Mugabe. The MDC disputes Mugabe's June re-election in a runoff against Tsvangirai, which was condemned internationally as a sham.
South African President Thabo Mbeki has been mediating the talks as the Southern African Development Community appointed envoy for Zimbabwe.
Tsvangirai and Mugabe are both expected to attend the summit of the SADC, along with Arthur Mutambura, the leader of an MDC splinter group.
On Friday, the Southern African Litigation Centre said it will file an urgent application with the SADC tribunal, seeking that it suspend its invitation to Mugabe to attend the summit.
Saying the June 27 runoff election "was recognised by SADC itself as not free and fair and not reflective of the democratic will," it says "Mugabe should not be recognised as a head of state."
The application is being filed on behalf of the Zimbabwe Exiles' Forum, an South African-based non-governmental organization assisting those who have fled from the political violence in Zimbabwe.
Nicole Fritz, director of SALC, said that "SADC has repeatedly said it will not recognise unconstitutional changes in government and we intend holding them to this commitment."
E-mail to a friend

All About Zimbabwe • Robert Mugabe