HARARE, Zimbabwe (CNN) -- South African President Thabo Mbeki is heading to Zimbabwe for talks with the country's president and the head of an opposition faction, the South African government announced Wednesday.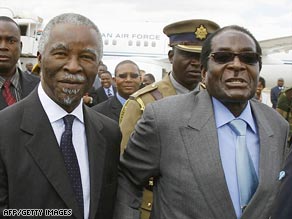 South African President Thabo Mbeki, left, with his Zimbabwean counterpart Robert Mugabe.
The visit is part of Mbeki's mediation role in Zimbabwe, the South African Department of Foreign Affairs said in a statement.
The statement made no mention of a reported deadlock in power-sharing talks between Zimbabwean President Robert Mugabe and the main opposition leader, Morgan Tsvangirai.
Mbeki said Tuesday the negotiations were continuing, but that the parties were adjourning for a few days to consult with their respective officials in the Zimbabwean capital of Harare.
But Tsvangirai's Movement for Democratic Change (MDC) party issued a statement on Wednesday blaming Mugabe's supporters for continuing a campaign of violence despite the dialogue. It said two MDC activists were killed by Mugabe supporters last week.
"The deaths show that there is no sincerity on the part of ZANU-PF," the statement said, referring to the ruling party.
Mbeki plans to travel to Harare on Wednesday to meet separately with Mugabe and Arthur Mutambara, the leader of an opposition faction, the statement said. Mbeki met with Tsvangirai on Tuesday in Pretoria, South Africa, where the talks are being held.
Mugabe and Tsvangirai signed a memorandum of understanding last week that paved the way for the talks in Pretoria. The talks aim to end months of political chaos that followed the disputed March presidential election.
Mutambara, the leader of another MDC faction, has also been taking part in the talks.
A source close to the negotiations said Monday that the talks had deadlocked, but Mbeki said Tuesday they had only paused.
The source said negotiators for Mugabe had offered Tsvangirai a vice presidency position, which caused the talks to stall because Tsvangirai wanted a larger role.
Mugabe's offer, the source said, would allow him to remain in power along with the two existing vice presidents. Tsvangirai would be given the position of third vice president, the source said.
Tsvangirai's Movement for Democratic Change would not accept a junior partnership in a future Zimbabwe government, the source said.
Negotiators for the MDC will re-commence talks with Mugabe's ZANU-PF party on Saturday, the source said.
MDC officials have said they will not accept a Mugabe-led government because Tsvangirai won the most votes in the March 29 presidential election. Tsvangirai, however, failed to win enough votes to avoid a run-off with Mugabe, leading to a second round of voting June 27.
Mugabe won the run-off after Tsvangirai withdrew from the vote, saying Mugabe's supporters had orchestrated a campaign of beatings, intimidation and murders against Tsvangirai supporters.
E-mail to a friend

All About Robert Mugabe • Morgan Tsvangirai