NAIROBI, Kenya (CNN) -- Gunmen in Somalia have shot dead an agent for a World Food Program transport company, the U.N. agency said Tuesday.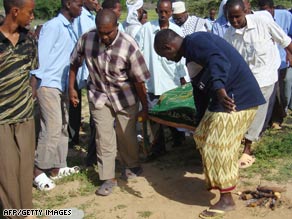 Somalis prepare Monday to bury murdered Osman Ali Ahmed, the head of the U.N. Development Program.
The incident, which occurred Sunday, was the fifth killing in Somalia of a staffer for a WFP-contracted trucking company this year.
Violence and chaos persist in the drought-stricken and war-wracked African nation, and there have been kidnappings and attacks on aid workers in recent weeks.
The WFP said that members of a militia in the southern town of Buale killed the agent in a "local dispute." Militia members often demand payment from truckers carrying humanitarian assistance, the humanitarian agency said.
"We condemn these shootings, and are very concerned that growing insecurity threatens to sabotage the humanitarian response in Somalia," said WFP Country Director Peter Goossens in a statement.
Osman Ali Ahmed, who headed the U.N. Development Program in Somalia, was shot and killed as he left a Mogadishu mosque Friday.
A growing percentage of the Somali population has become dependent on humanitarian aid.
A severe famine swept the nation from 1991 to 1993, killing up to 280,000 people and displacing as many as 2 million, according to the United Nations High Commissioner for Refugees. The situation has been exacerbated by drought, continual armed conflicts in central and southern Somalia, and high inflation on food and fuel prices.
E-mail to a friend

All About United Nations High Commissioner for Refugees • Somalia • United Nations World Food Programme