By Charley Keyes
CNN

WASHINGTON (CNN) -- President Bush and his international policy team pushed on all fronts Tuesday to increase pressure on Zimbabwe's government after an attempt to impose U.N. sanctions on the regime failed last week.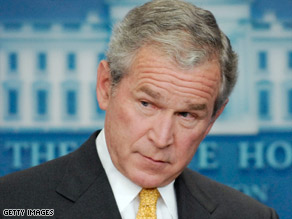 President Bush said Tuesday that the United States is looking at ways to keep the heat on Zimbabwe.
Bush spoke out at his White House news conference, Secretary of State Condoleezza Rice talked at a meeting with African leaders, and Rice's point person on Africa testified to members of Congress.
Bush said he was "displeased" that Russia and China on Friday used their veto power to defeat the U.N. Security Council measure, which would have placed a travel ban on Zimbabwean President Robert Mugabe and members of his government, frozen many of their assets and imposed an international arms embargo on the regime.
Bush told the world that the United States is again considering ways to keep the heat on the Mugabe regime.
"The Treasury Department, State Department are now working on potential U.S. action," he said Tuesday morning.
Rice talked at a State Department conference on African trade about "the heartbreaking plight of the Zimbabwean people."
"In the Mugabe regime, we see the page of history that Africa must turn -- a leader for independence, which inherited a nation full of promise, but which has devolved into a tyranny that values nothing but power," she said.
"It is hard to imagine how Africa will ever reach its full potential until all of its leaders are accountable to and respectful of the will of its people."
Assistant Secretary of State for African Affairs Jendayi Frazer on Tuesday also denounced the Mugabe regime, accusing it of waging a campaign of violence and intimidation to assure victory in a June 27 presidential run-off election.
"We know that more than 100 people have been murdered, more than 3,000 have sought medical treatment for beatings and torture, and more than 30,000 have been driven from their homes because of the violence," Frazer testified before a Senate subcommittee Tuesday.
"The United States does not and will not accept the legitimacy of any process that does not reflect the will of the Zimbabwean people," Frazer said.
Sen. Russ Feingold, D-Wisconsin, chairman of the Senate Foreign Relations subcommittee on African affairs, also called upon the international community to bring an end to the "staggering" reports of killings, torture and sexual violence.
"Now is the time to scale up, not give up, on global action," Feingold said. "We must not allow Zimbabwe to fall out of the international spotlight, as it has many times before."
E-mail to a friend

All About Robert Mugabe • George W. Bush • Condoleezza Rice • United Nations Security Council