(CNN) -- Gunmen in southern Somalia have killed a truck driver carrying relief supplies for the World Food Programme -- the fourth WFP driver killed in Somalia this year, the U.N. aid agency said Wednesday.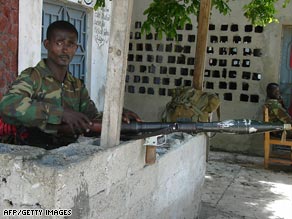 Ethiopian soldiers man a position in Somalia's embattled capital following a fresh outbreak of violence.
Ahmed Saalim was part of a convoy of trucks, under contract with the WFP, that was carrying more than 600 metric tons of food Monday.
He was shot when fighting broke out between convoy escorts and militiamen at a checkpoint near a village in the Lower Shabelle region.
Saalim is the fourth WFP-contracted driver killed this year, the agency said.
"WFP food is reaching many people but our drivers are daily risking their lives to deliver it," said WFP Country Director Peter Goossens in a statement.
The WFP, the globe's largest humanitarian agency, will feed an average of 2.4 million people a month for the rest of the year in Somalia.
Humanitarian workers view Somalia's food crisis as one of the worst in the world. Road travel throughout the country has become increasingly dangerous and time-consuming. It can take weeks to reach people because of armed checkpoints requiring travelers to pay fees.
Somalia's last severe famine was from 1991 to 1993. It swept through the nation, devastating crops, killing between 240,000 and 280,000 people and displacing up to 2 million, according to the United Nations High Commissioner for Refugees.
The continual armed conflicts in central and southern Somalia have aggravated the situation, and a growing percentage of the population has become dependent on humanitarian aid.
In addition to drought and armed conflict, high inflation on food and fuel have also exacerbated the situation.
E-mail to a friend

All About Somalia • United Nations World Food Programme