TOYAKO, Japan (CNN) -- The leaders of the Group of Eight nations expressed concerns Tuesday about Iran's nuclear program and Zimbabwe's election crisis.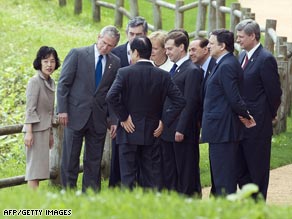 The G-8 leaders, with Hokkaido Governor Takahashi (left), at a tree-planting ceremony Tuesday.
They urged Iran to obey United Nations resolutions already in place and warned Zimbabwe leaders that financial actions may be sought against those involved in election-related violence.
"We express our serious concern at the proliferation risks posed by Iran's nuclear program and Iran's continued failure to meet its international obligations," the G8 nations said in a report on issues discussed at their summit in Japan.
Although Iran repeatedly argues that its nuclear program has peaceful goals, some other countries remain unconvinced.
The Bush administration and other members of the U.N. Security Council -- Britain, France, China and Russia, along with Germany -- have offered Iran a set of political and economic incentives in exchange for suspending its uranium enrichment program. The council has also imposed sanctions on Iran.
At a news conference in Kuala Lumpur, Malaysia, Iranian President Mahmoud Ahmadinejad -- speaking before the release of the G8 declaration -- said his country is mulling the package which includes incentives and penalties.
Iran's state-run news agency IRNA quoted Ahmadinejad as saying: "No one in Iran will retreat even by one inch from the country's indisputable nuclear right. However, we advocate negotiations under just and reasonable situation."
Turning to Zimbabwe, the G8's statement said: "We deplore the fact that the Zimbabwean authorities pressed ahead with the presidential election despite the absence of appropriate conditions for free and fair voting as a result of their systematic violence, obstruction and intimidation."
"We recommend the appointment of a special envoy of the U.N. Secretary-General to report on the political, humanitarian, human rights and security situation and to support regional efforts to take forward mediation between political parties.
"We will take further steps, (by, among other things,) introducing financial and other measures against those individuals responsible for violence," the statement said.
Leaders from the United States and Britain have already been highly critical of Zimbabwe's March presidential election and the country's June runoff election. On Monday U.S. President George Bush called the process a "sham."
Longtime Zimbabwean President Robert Mugabe won the June 27 runoff after his only challenger, opposition candidate Morgan Tsvangirai, dropped out of the race, citing the beatings and killings of his supporters.
The G8 leaders' statement comes a week after the African Union, a coalition of African leaders and heads of state, adopted a resolution urging talks in Zimbabwe aimed at promoting peace and stability in the country.
Bright Matonga, Zimbabwe's deputy minister of information, characterized the G8 statement as a U.S.- and British-led attack on African leaders.
"They are trying to undermine African leaders," Matonga told CNN. "They are trying to undermine this African process."
The Group of Eight is made up of the United States, Japan, Germany, Britain, France, Italy, Canada and Russia.
Tsvangirai said his Movement For Democratic Change party decided not to participate in last month's vote because of an ongoing campaign of political intimidation and violence at the hands of Mugabe supporters.
Tsvangirai won the most votes in the March 29 election, but not enough -- according to official figures -- to avoid a runoff.
UK Prime Minister Gordon Brown, also at the G-8 summit, said Monday that he believes "there is growing support for sanctions against the Mugabe regime" because very few countries recognize his government.
Mugabe has been Zimbabwe's only leader since independence in 1980, before which it was called Rhodesia and ruled by the UK. Britain is one of many countries that do not recognize Mugabe's reelection.
E-mail to a friend

All About G-8 • Zimbabwe • African Union