From Terence Burke
CNN
UNITED NATIONS (CNN) -- The United States may soon put forward a U.N. Security Council draft resolution that would slap U.N. sanctions on Zimbabwe's long-time president, Robert Mugabe, and 11 senior members of his government.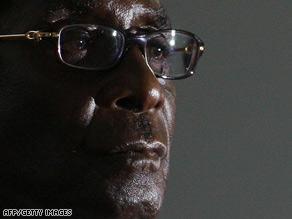 Robert Mugabe is shown Sunday being sworn in as president in Harare, Zimbabwe.
The sanctions would impose a travel ban on Mugabe and the others, would freeze many of their assets, and would impose an international arms embargo on the regime.
The push for U.N. sanctions comes after Mugabe ignored the Security Council's appeal to postpone last week's presidential runoff election in Zimbabwe.
Mugabe was sworn in for another term as Zimbabwe's president after Friday's presidential runoff. The vote was widely derided by international leaders as a "sham" because his only opponent, Morgan Tsvangirai, had withdrawn from the race citing widespread violence, intimidation, and vote-rigging. See a timeline of Zimbabwe's political crisis »
The draft U.N. resolution expresses "deep concern at the gross irregularities during the June 27 presidential election, the violence and intimidation perpetrated in the run-up to the election that made impossible the holding of free and fair elections, and the creation of an environment that did not permit international election observers to operate freely before the June 27 vote."

See photos of violence intimidating voters »
The United Kingdom has been a harsh critic of Mugabe and is a chief backer of the U.S. push for sanctions. John Sawers, the British ambassador to the United Nations, has called the situation in Zimbabwe dire.
"We need to make clear that the views of the Zimbabwean people as expressed in the last elections that was reasonably free and fair, the one of the 29th of March, needs to be respected," Sawers said.
British Prime Minister Gordon Brown on Wednesday said Mugabe "has blood on his hands" after the violence leading up to last week's election and should step down.
It was unclear if and when there will be a Security Council vote on the U.S.-drawn resolution. South Africa, China and Indonesia, among others, are concerned the United Nations is interfering in a member country's electoral process.
Tsvangirai on Wednesday rejected an African Union decision to keep South Africa's president alone in charge of efforts to resolve Zimbabwe's political crisis, news services reported.
Speaking to reporters at his home in Harare, Zimbabwe's capital, Tsvangirai said his group would not participate in talks about forming a governing accord with Mugabe's government unless an additional mediator was appointed, The Associated Press reported.
The opposition leader's comments came a day after an AU summit reconfirmed South Africa President Thabo Mbeki as mediator.

Watch a report on international pressure mounting on Mugabe »
Tsvangirai has repeatedly called on Mbeki to step down from his mediation role, saying Mbeki's refusal to publicly criticize Mugabe amounts to appeasement. Mugabe has extolled Mbeki's role.
E-mail to a friend

Copyright 2008 CNN. All rights reserved.This material may not be published, broadcast, rewritten, or redistributed. Associated Press contributed to this report.
All About Zimbabwe • Robert Mugabe • Morgan Tsvangirai • Thabo Mbeki • African Union