Fareed Zakaria is a preeminent foreign affairs analyst and hosts "Fareed Zakaria: GPS" on CNN Sundays at 1 p.m. ET . He spoke to CNN about the crisis in Zimbabwe.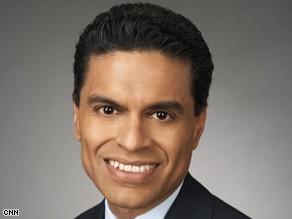 Fareed Zakaria says South Africa should be doing a lot more to solve the Zimbabwe crisis.
NEW YORK (CNN) -- Zimbabwe's main opposition party is urging the world to intervene immediately before a mounting political crisis in the country gets even worse. Analyst Fareed Zakaria gives his view of the situation.
CNN: What should we make of the crisis in Zimbabwe?
Zakaria: Robert Mugabe is using every trick in the book, many of them nasty and brutish, to stay in power. But what does that mean? Zimbabwe is already under sanctions. Perhaps tighter sanctions will have an effect, but in general, this is an illustration of one of the great frustrations of diplomacy. You can watch an intolerable situation involving great injustice but still be unable to do that much about it.
CNN: Should military force be an option?
Zakaria: Well, you should never rule anything out, but it's a lousy option. It would arouse strong opposition. And what happens the day after the invasion? You now own Zimbabwe, a country that Mugabe and his regime have run into the ground over the last 30 years.

Watch victims of beatings in Zimbabwe »
CNN: So could anything work?
Zakaria: The world should try real, foolproof sanctions that are not directed against the country but the regime, the few hundred people at the top. Freeze their bank accounts, make it impossible for them to travel anywhere, revoke the visas of their children who are studying abroad. Let them, not ordinary Zimbabweans, pay for Mugabe's crimes.
CNN: Should the United States lead on this issue?
Zakaria: No. The U.S. should certainly make its position clear, but it doesn't have the credibility to make the difference. Only one country does: South Africa. And its president, Thabo Mbeki, has been shamefully quiet about the horrors in Zimbabwe. Mbeki has abdicated his country's natural leadership role in Africa by his cowardice and complicity. Mbeki should hang his head in shame.
CNN: The UK has been taking a lead position in condemning Mugabe. ... Is this appropriate, given its history in Zimbabwe?
Zakaria: Absolutely. Britain has long ties with Zimbabwe and knows the country well. I don't think it should be paralyzed by its colonial past. As John Burns of The New York Times says on our show this week, "Zimbabweans aren't stupid, and Africans aren't stupid." Mugabe is trying to play the colonial card against Britain, but it won't work. Britain is doing the right thing.
E-mail to a friend

All About Zimbabwe • Thabo Mbeki • Robert Mugabe