HARARE, Zimbabwe (CNN) -- Opposition leader Morgan Tsvangirai on Wednesday called for armed international peacekeepers to secure a new presidential election in Zimbabwe, which has been racked by violence ahead of a Friday runoff.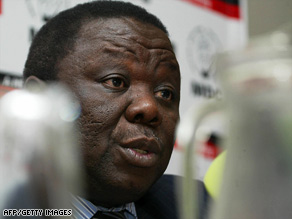 Opposition leader Morgan Tsvangirai said he feared supporters could be injured if a runoff took place.
Tsvangirai won the most votes in the March 29 election but failed to gain a majority. He formally withdrew Tuesday from the runoff against President Robert Mugabe.
"We do not want armed conflict, but the people of Zimbabwe need the words of indignation from global leaders to be backed by the moral rectitude of military force," Tsvangirai wrote in Wednesday's edition of the British newspaper The Guardian.
"Such a force would be in the role of peacekeepers, not troublemakers. They would separate the people from their oppressors and cast the protective shield around the democratic process for which Zimbabwe yearns."
The U.N. Security Council on Monday unanimously condemned Zimbabwe's government for its campaign of violence and intimidation but stopped short of calling for a postponement of the runoff or for a new election.
Tsvangirai, however, was clear.
"The next stage should be a new presidential election," he wrote. "The reality is that a new election, devoid of violence and intimidation, is the only way to put Zimbabwe right."
Don't Miss
Mugabe said Tuesday he was campaigning for Friday's election despite Tsvangirai's decision.
"We will proceed with our election; the verdict is our verdict," Mugabe said at a rally in Bankent. "Other people can say what they want, but the elections are ours. We are a sovereign state, and that is it.
"They can shout as loud as they like from Washington or from London or from any other quarter. Our people, only our people, will decide, and no one else."
The Movement for Democratic Change hand-delivered a letter signed by Tsvangirai to the electoral commission Tuesday, saying it will not participate in the runoff with Mugabe, spokesman Nelson Chamisa said.
"The violence, intimidation, death, destruction of property is just too much for anyone to dream of a free and fair election, let alone expect our people to be able to freely and independently express ... themselves," Tsvangirai said in the letter.
Tsvangirai, speaking from the Dutch Embassy in Harare, where he has been since Sunday, said, "This is total war, and we cannot be part of that war. This is not an election.
He added, "The conditions are just horrendous. I've been arrested, I've been brutalized; this is not exaggeration. This is reality here."

Watch Tsvangirai talk about Zimbabwe's desperate times »
Mugabe and his government have denied Tsvangirai's accusations, blaming the MDC for inciting violence in the weeks ahead of the runoff.
Zimbabwe's ambassador to the United Nations, Boniface Chidyausiku, said Tuesday that the vote will continue without Tsvangirai because Zimbabweans cannot be kept indefinitely in "election mode."
"The reaction I've got from Harare is that we are proceeding with the elections on Friday," he said at the United Nations.
"We cannot keep our people in election mode for [an] indefinite period. It's causing tensions in Zimbabwe; it's causing anxiety. We believe, as [the] government, we have to get over with this process and then see how we can take our country forward."

Watch Chidyausiku declare that the election will go on »
Tsvangirai's decision gives an apparent victory to Mugabe, who has been Zimbabwe's only leader since the country gained independence from Britain in 1980.

Learn more about Zimbabwe »
U.N. Secretary-General Ban Ki-moon and the head of the Southern African Development Community have called for Friday's vote to be postponed.
"We have said that SADC, the [African Union], have a responsibility of intervening," Tsvangirai said Tuesday. "And we are awaiting whatever they are proposing."
He said the MDC has put forth two proposals: one supporting a postponed election and the other suggesting a "a negotiated process." He did not elaborate but said, "We need to assure everyone through some form of a traditional mechanism in order to pull this country out of this quagmire."

Watch a report on the ongoing crisis »
As Ban appealed for a postponement, he said the vote as scheduled "would only deepen divisions within the country and produce a result that could not be seen as credible."
Zalmay Khalilzad, the U.S. ambassador to the United Nations, said Tuesday that the Security Council is in "the phase of assessing reaction." Khalilzad holds the council's rotating presidency.
"We have been heartened by the reaction around the world to the resolution," he said. "Now we have to give it a little bit of time, to see what the reaction is, and then we have to look at what do you do to bring about compliance."
He said it was encouraging that the three African members of the Security Council -- Burkina Faso, Libya and South Africa -- had supported the condemnation.
South Africa's ruling party, the African National Congress, said in a statement Monday that the Zimbabwean government was "riding roughshod over the hard-won democratic rights of the people of that country."
"Free and fair elections are not possible in the political environment prevalent in Zimbabwe today," said the unsigned statement posted on the group's Web site.
However, the ANC emphasized Zimbabwe's colonial past, calling it a system of "arbitrary, capricious power exercised by a distant colonial office," and it insisted that outsiders should not intervene.
"It has always been and continues to be the view of our movement that the challenges facing Zimbabwe can only be solved by the Zimbabweans themselves. Nothing that has happened in the recent months has persuaded us to revise that view," the ANC said.
But South African Archbishop Desmond Tutu disagreed, saying Tuesday that intervention is necessary.
The situation in Zimbabwe is "degenerating into one of the worst nightmares you could imagine," he said. "I said, almost a year ago, I said, it looked like this man is bonkers. And that we need to intervene."

Watch Tutu's full interview »
Tutu was asked what he would say to Mugabe if given the opportunity.
"I would say to him, look, man, you had a reputation that many people respected as a liberation fighter; you liberated your people from the shackles of colonial rule, and there was a chance of your being able to salvage a great deal of that legacy," he said.
"Please, please, for your own sake, for the sake of Zimbabwe, for the sake of Africa, step down."
E-mail to a friend

All About Zimbabwe • Robert Mugabe • Morgan Tsvangirai