By Mohamed Adow Amin
(CNN) -- Pirates took four European tourists hostage after their yacht ran out of fuel off the coast of northern Somalia in the Red Sea's Gulf of Aden, according to a Somaliland official.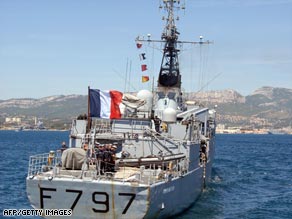 The French Navy has been patrolling the waters off Somalia's coastline in recent months.
The pirates then took their hostages -- a man, woman, their child and their yacht's pilot -- into hills around the fishing town of Las Qoray, said Ahmed Yusuf Yasin, vice president of the self-declared Republic of Somaliland.
Somaliland soldiers and local residents were searching for the pirates in an effort to free the hostages, Yasin said.
Las Qoray is in a territory claimed by both Puntland, a self-declared autonomous state, and Somalia. The two sides clashed over the disputed land earlier this year.
Yasin said he believed the hostages were either French or German.
Earlier this month the U.N. Security Council gave nations new powers to pursue pirates into the waters off Somalia in an effort to combat a new spate of hijackings off the Horn of Africa.
The Gulf of Aden in particular has become a treacherous stretch for shipping in recent months, with more than two dozen pirate attacks reported since the beginning of 2008, according to the International Maritime Bureau. Nine of those have been successful hijackings, the bureau said.
E-mail to a friend