HARARE, Zimbabwe (CNN) -- Officials in Zimbabwe's opposition party say it has rejected the idea of pulling out of next week's runoff election.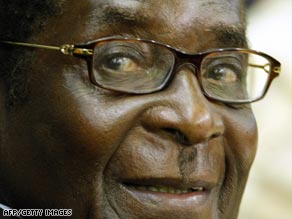 President Robert Mugabe says war veterans will take up arms again if Tsvangirai wins.
Matthew Nyashanu, London representative for the Movement for Democratic Change, said Friday that the party needs to push forward and stay in next Friday's election "despite the violence that is being unleashed" by the Robert Mugabe government.
The news came as Mugabe vowed to leave office only "when land is returned to the country's black majority," despite the threat of fresh sanctions from the European Union.
The MDC has blamed Mugabe and his Zanu-PF party supporters for beatings, kidnappings, arrests, and the deaths of more than 70 people since the March 29 election.
MDC candidate Morgan Tsvangirai has complained of harassment after being detained several times in recent weeks, and MDC Secretary-General Tendai Biti appeared in court Friday on charges including treason, which carries the death penalty.
MDC Treasurer General Roy Bennett, speaking from Johannesburg, South Africa, echoed Nyashanu's remarks.
"Pulling out of the elections now would be giving in to a violent dictator who is prepared to wage war on his own people to stay in power," he said.
"The MDC will continue to resist this oppression through our commitment to democratic change and abiding by the will of the people. It is encouraging that a good number of African leaders are coming out to condemn the violence and harassment of the people of Zimbabwe."
African and international leaders have criticized Biti's arrest and treason charges, describing it as a ploy by Mugabe supporters to intimidate the opposition party before the June 27 runoff.

Watch Biti arrive for his court hearing »
Meanwhile, Mugabe told thousands of supporters at two campaign rallies that he had to ensure the legacy of returning the land taken by British settlers to its "rightful owners," the state-run Herald newspaper reported Friday.
"Once I am sure this legacy [of returning land to the blacks] is truly in your hands, people are empowered," he was quoted as saying. "Then I can say, 'Aha, the work is now done.' "
Under land redistribution policies he started in 2000, Mugabe seized white-owned farms and gave the land to black Zimbabweans, saying they were cheated under colonial rule.
The number of white-owned farms in Zimbabwe, once in the thousands, has dwindled to about 400.
Most of the redistributed land has not been harvested, and many analysts blame Zimbabwe's economic collapse -- including staggering inflation and unemployment -- on the farm seizures.
Last week, Mugabe warned that veterans he commanded in his country's liberation war nearly three decades ago would take up arms again if Tsvangirai were to win. He has also promised to arrest more officials from the MDC, blaming the party for election-related violence.
European Union leaders said Friday that they are "deeply concerned" about the surge in violence and intimidation in Zimbabwe ahead of next week's vote, according to a draft of the conclusions of a two-day EU summit taking place in Brussels, Belgium.
"The European Council reiterates its readiness to take additional measures against those responsible for violence," said the draft document.
The EU "remains deeply concerned by the situation in Zimbabwe and reiterates the need for the upcoming second round of presidential elections on 27 June to be held in a peaceful, free and fair environment in accordance with international norms and standards," the text said.
Video shot by U.S. embassy officials in Zimbabwe this week shows women and children being chased by armed Mugabe supporters.
The footage, shot in the capital of Harare on Wednesday and given to CNN on Thursday, shows youths wearing gear and T-shirts displaying their allegiance to the president. They chase Zimbabweans down a road and into houses.

Watch CNN's Nkepile Mabuse report on the violence »
It is how communities are terrorized into attending Mugabe rallies, the U.S. embassy said, and U.S. Ambassador James McGee calls the situation in Zimbabwe "catastrophic."
The Institute for Democracy in South Africa has said that Mubage's government is committing crimes against humanity and that more than 1,300 people have been tortured since the March election.
Thursday, the MDC said that four of its activists and the wife of Harare's mayor -- an opposition member -- were found dead. Homes of MDC supporters in a township outside Harare were burned.
"It's really sad what we've seen here," said a Pan-African Parliament election observer who visited the scene and asked that his name not be used for security reasons. "This confirms the level of violence that is taking place here in the pre-election phase."
Mugabe's party has denied any part in the deaths, saying the MDC blames them frequently.
"It's all part of the harassment, and of course it has a direct effect," Tsvangirai said after leaving the courtroom where Biti is being tried. "We spend a lot of time here, which is unnecessary to come and attend these court proceedings, and therefore affects our time on the campaign."
U.S. Secretary of State Condoleezza Rice, speaking at the United Nations on Thursday, accused Mugabe of sponsoring efforts to starve, beat and kill supporters of his opponent so he can win the election, and she called for a broader and stronger international effort to ensure the elections are fair.
"Mugabe is increasing violence against [the] opposition," Rice said. "President Mugabe has squandered the promise of the very nation that was hailed as the jewel of Africa."
African leaders, who have said little publicly about the situation in Zimbabwe since the March vote, are starting to speak out about the violence.
"It doesn't need a genius to understand that free and fair elections may be very hard to contemplate in that situation," Rwandan President Paul Kagame said.

Learn more about Zimbabwe »
E-mail to a friend

-- CNN's Nkepile Mabuse in Johannesburg, South Africa and Robin Oakley in Brussels, Belgium contributed to this report.
All About Zimbabwe • Robert Mugabe • Morgan Tsvangirai