HARARE, Zimbabwe (CNN) -- Zimbabwe's opposition party said four of its activists and the wife of Harare's mayor -- an opposition member -- were found dead Thursday, just days ahead of next week's presidential runoff election.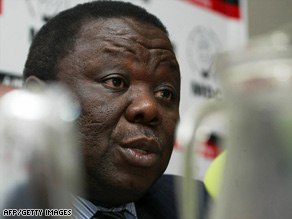 Opposition leader Morgan Tsvangirai has been detained four times while campaigning.
Tendai Biti, the opposition Movement for Democratic Change's (MDC) secretary-general, was also formally charged with treason Thursday after being arrested last week.
A spokesman for the MDC blamed President Robert Mugabe's ZANU-PF party for the deaths, saying they brought to 70 the number of MDC party members killed since a bitterly contested election three months ago.
The body of the mayor's wife, 27-year-old Abigail Chiroto, was found in a mortuary close to the couple's house north of Harare. She had been beaten so severely with rocks and iron bars that her face was almost unrecognizable, said MDC spokesman Nelson Chamisa.
"It's way out of the ordinary. It's callous," he said.
Chiroto was kidnapped, along with her four-year-old son, on Tuesday. Some of her kidnappers wore military uniforms, Chamisa said.
Chiroto's son was released unharmed.

Watch Mugabe say he'll fight to keep is party in power »
Her husband, Emmanuel Chiroto, is an MDC member who was recently elected mayor of Harare. He was not home at the time of the kidnapping.
The other activists were also abducted Tuesday. They were were found in a township, about 30 km (18 miles) south of Harare. They had been stabbed with spears and shot, Chamisa said.
Don't Miss
"It's unbelievable the way people are being killed or murdered," he said. "It's almost mass butchering."
Police confirmed the deaths of the activists but did not link the victims to any political party.
Mugabe's party denied any part in the deaths, saying MDC officials made such accusations frequently.
"They are claiming anyone who dies. They phone CNN," Bright Matonga, a ZANU-PF spokesman, said. "Whenever someone dies in the hospital, they rush to claim them."
Matonga said Harare was run by a commission. "There is no MDC mayor in Zimbabwe," he said. "There is no newly elected mayor in Harare."

Learn more about Zimbabwe »
U.S. Secretary of State Condoleezza Rice, speaking at the United Nations on Thursday, accused Mugabe of sponsoring efforts to starve, beat and kill supporters of his opponent so he can win the upcoming election.
"Mugabe is increasing violence against (the) opposition. ... President Mugabe has squandered the promise of the very nation that was hailed as the jewel of Africa," Rice said at a roundtable discussion attended by representatives from many international governments.
"Clearly we have reached a point where broader, stronger, international effort is needed," she added.
Meanwhile, Biti was also charged with communicating false information prejudicial to the state, bringing the office of the president into disrepute and causing disaffection among armed forces, according to a journalist who was in the Harare courtroom.
He had originally been scheduled to be formally charged Monday.
Biti's arrest and treason charges have been criticized by African and international leaders who characterize it as a ploy by Mugabe supporters to intimidate the opposition party before his June 27 runoff election against MDC leader Morgan Tsvangirai.
In recent weeks, opposition groups and churches have reported numerous cases of kidnappings, torture and other violence in the country targeting opponents of Mugabe. ZANU-PF members have been suspected of being behind the acts.
ZANU-PF claims that the MDC is behind the violence. It said MDC members attacked the mayor of Kadoma, a city 140 km (87 miles) southwest of Harare. It also accused MDC activists of causing millions of dollars damage to private business.
Last week, Mugabe warned that veterans he commanded in his country's liberation war nearly three decades ago would take up arms again if Tsvangirai won.
Mugabe has been Zimbabwe's only leader since the war ended in 1980, but is blamed for the economic collapse of a country once considered a regional breadbasket.
Zimbabweans increasingly are unable to afford food and other essentials with agriculture paralyzed by land reform and the world's highest rate of inflation.
Police have arrested Tsvangirai several times in the weeks leading up to the runoff, most recently on Saturday with 11 other officials and supporters from his party.
Mugabe has threatened to arrest more MDC officials, blaming the party for pre-election violence.
E-mail to a friend

CNN's Ben Brumfield in Atlanta contributed to this report.
All About Zimbabwe • Robert Mugabe • Morgan Tsvangirai • Gordon Brown