HARARE, Zimbabwe (CNN) -- South African President Thabo Mbeki met with Zimbabwean President Robert Mugabe and opposition leader Morgan Tsvangirai on Wednesday hoping to quell bitterness over the presidential election, government and opposition party sources said.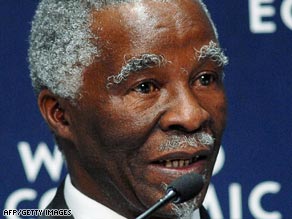 Thabo Mbeki is under domestic and international pressure for his perceived conciliatory stance toward Mugabe.
Mugabe faces a runoff June 27 against Tsvangirai and Mugabe's supporters have been accused of kidnappings, beatings and murders in an effort to influence the outcome.
Mbeki, visiting in his capacity as mediator with the 14-nation Southern African Development Community, met with Mugabe on Wednesday afternoon in the southwestern city of Bulawayo, South African officials said.
Mbeki is under domestic and international pressure for his perceived conciliatory stance toward Mugabe, but the South African leader recently said he will continue his quiet diplomacy despite recent events.
He met separately with Tsvangirai on Wednesday, according to Nelson Chamisa, a spokesman for Tsvangirai's party.
U.S. Secretary of State Condoleezza Rice, appearing at a news conference with Kenyan Prime Minister Raila Odinga, called on African leaders like Mbeki to send Mugabe a strong message.
"I think it is its time for the leaders of Africa to say to President Mugabe that the people of Zimbabwe's deserve a free and fair election," she said, "that you do not intimidate opponents, you do not put opponents in jail, you cannot threaten them with charges of treason and be respected in the international community."
Don't Miss
At the news conference with Rice, Odinga said Mugabe made a "sham" of the presidential election by harassing and arresting members of the opposition.
Calling the situation in Zimbabwe "an eyesore for the African continent," Odinga said a fair election is impossible when opposition members are beaten, jailed, and charged with treason, as is happening in Zimbabwe.
"My view is that the time has come for the international community to act on Zimbabwe in a way they acted in Bosnia," he said, adding that international peacekeeping forces should be deployed to ensure a proper election.
Rice did not respond specifically to the call for a peacekeeping force but said she will be co-chairing a high-level United Nations meeting on Zimbabwe on Thursday in an effort to bring more attention to the matter.
Mugabe met Tuesday with top United Nations envoy Haile Menkerios, who is in Zimbabwe this week to try to resolve pre-election tensions.
Last week, Mugabe warned that veterans he commanded in his country's liberation war nearly three decades ago would take up arms again if Tsvangirai were to win. Mugabe has been Zimbabwe's only leader since the war ended in 1980. Police have arrested Tsvangirai several times in the weeks leading up to the runoff, most recently on Saturday with 11 other officials and supporters from his party, the Movement for Democratic Change.
MDC Secretary-General Tendai Biti remains behind bars after his arrest last week, and officials have said he will be charged with treason, although he has yet to have a hearing. The treason charge could carry the death penalty.
Mugabe has threatened to arrest more MDC officials, blaming the party for pre-election violence.
Human Rights Watch issued a report last week declaring the runoff to be dead on arrival because of violence and intimidation by Mugabe's followers -- including the war veterans -- against opposition supporters.
There have been numerous reports from the opposition and church groups about kidnappings, torture and other violence, including the deaths of opposition party members. They say the violence targets opponents of Mugabe and his Zanu-PF party.
British Prime Minister Gordon Brown said Wednesday that 53 people have been killed, 2,000 wounded, and 30,000 displaced during the election campaign.
Brown said his government had asked Zimbabwe to allow observers in for next week's vote. Hundreds have already been allowed in, he said, and more are expected.
"We demand that these observers come from the different parts of the world and not just from Africa," Brown said in the House of Commons. "We demand that the proper monitoring of these elections take place. If that is not to happen, it will be difficult to justify elections as free and fair."
Zimbabwe's neighbors have acknowledged the problems that exist in the country and the need for proper elections, Brown said.
About Mugabe's government he said, "It is a criminal regime run by a criminal cabal, and we must make that clear to the rest of the world."
E-mail to a friend

CNN Correspondent Nkepile Mabuse contributed to this report
All About Zimbabwe • Robert Mugabe • Morgan Tsvangirai • Gordon Brown