(CNN) -- Zimbabwean authorities put more pressure on opposition figures on Thursday, seizing a top leader and accusing him of treason.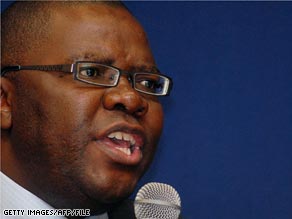 Tendai Biti at a World Economic Forum session on June 6 in South Africa.
Police and the opposition Movement for Democratic Change confirmed Tendai Biti's arrest and the charges he will face.
The United States on Thursday called on the U.N. Security Council to immediately address the situation.
MDC leader Morgan Tsvangirai also was detained twice Thursday, his party said. The first time he was released after a couple of hours.
Biti, secretary general of the MDC, was arrested when he arrived in Harare, Zimbabwe, from South Africa.
Party spokesperson Nelson Chamisa said: "Tendai Biti is a proud Zimbabwean who has been at the forefront of the struggle for a more democratic and prosperous country. He has at heart only the best intent for the country, its sovereignity and its people.
"Indeed, if any person's commitment to Zimbabwe should be questioned, it is those individuals in Mugabe's regime who have orchestrated the country's slide into dictatorship, economic ruin and impoverishment."
Zimbabwe's national police spokesperson Wayne Bvudzijena told CNN that Biti will be charged with treason and the communication of false information.
The treason charge relates to a document published by the MDC before the March 29 vote which, the state alleges, contains subversive statements authored by Biti.
Bvudzijena says authorities have a copy of the document but could not say exactly what statements attributed to Biti are treasonous.
Biti is also being charged with announcing results of the March 29 poll before the official announcement made by the electoral commission. Biti declared victory for the MDC and Tsvangirai soon after the elections.
Bvudzijena refused to divulge where the secretary general is being held, saying "it doesn't matter," but Biti's lawyers are trying to find out where he is.
This week, Zimbabwe's attorney general declared that those charged with political crimes will not get bail. The police would not say if this means Biti will be held without the prospect of bail.
Tsvangirai is facing long-time President Robert Mugabe in a June 27 runoff vote following the contentious March 29 election. The campaign has been marred by government political harassment, including the detention of Tsvangirai twice last week.
And Thursday, Tsvangirai was travelling from Harare with a campaign convoy to hold events and rallies in Kadoma and Chegutu when he was stopped and detained again by authorities as his convoy approached Kwekwe, the MDC said.
He was released but a few hours later detained again as he headed to the town of Gweru, a stop on his presidential campaign tour, according to the MDC.
A mstatement from the Bush administration said "the United States is deeply troubled" by the arrests. "We believe the time has come for the United Nations Security Council to take up immediately the issue to prevent further deterioration of the region's humanitarian and security situation."
The U.S. State Department accused the Zimbabwean government of sinking to depths rarely seen in an attempt to maintain its grip on power before a runoff presidential election later this month.
Spokesman Gonzalo Gallegos said: "This is a government that is taking tremendous and, frankly, awful strides to maintain its power, that is increasingly abusing its own citizens and has raised, or should I say lowered, the bar to a level that we rarely see."
Zimbabwean security forces were also accused of seizing a shipment of U.S. food aid meant for school children, which was subsequently passed out to supporters of President Robert Mugabe at a pro-government rally.
"The government party (is) actually using the threat of hunger on poor Zimbabwean children as a weapon against their parents so that they vote for President Mugabe," said Gallegos.
Biti predicted he would be arrested on his return to Zimbabwe, but insisted on going back to take part in the election campaign.
"I am prepared to meet whatever will come my way in this long and difficult, but noble road to Zimbabwe's democracy," Biti said, according to an MDC news release issued before his arrival.
"Notwithstanding the threats of arrest, I am going back to Zimbabwe because I take seriously the mandate that I have had the privilege of being given by the people of Zimbabwe, to be part of the leadership of those that wish to see a democratic and prosperous Zimbabwe," Biti was quoted as saying.

Learn more about Zimbabwe »
The behavior of the Mugabe government in the election run-up has been deplored across the globe.
U.S. President George Bush and British Prime Minster Gordon Brown have both criticized the election process.
On Monday, a scathing report released by Human Rights Watch said violence and torture had "extinguished any chance of a free and fair" runoff election in Zimbabwe.
Bright Matonga, a spokesman for Zimbabwe's government, denied Monday that the government had anything to do with the violence.
Matonga blamed it on Tsvangirai's party and said the government is cracking down on those who commit violence.
E-mail to a friend

All About Zimbabwe • Robert Mugabe • Morgan Tsvangirai