By David McKenzie
CNN

KEGOGI VILLAGE, Kenya (CNN) -- It may be difficult for modern-day Western cultures to fathom, but in Western Kenya, beliefs in ghosts and witches are very real. And sometimes they have deadly consequences.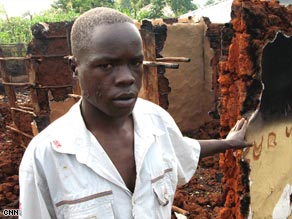 Justus Bosire stands in front of his house, which was destroyed by a mob that also killed his grandmother.
In late May, news outlets in Kenya told the story of 15 people, mostly elderly women, who were murdered in a witch hunt near the town of Kisii. The killings shocked the nation.
Villagers said more than 100 people gathered machetes and knives and stormed the village of Kegogi after midnight.
"They started banging on the doors, they broke into the house and then they killed our grandmother inside," says Justus Bosire. "The mob was screaming and we panicked. We ran away and they came to our house and burned it to the ground."
When Bosire returned to his grandmother's house, he found her dead on the floor in a bed of embers. His father is missing.
"They claim that my grandmother and father were practicing witches," Bosire says.

Watch Bosire describe her die »
Belief in witchcraft is strong in this part of Kenya. A few days before the incident, a group of schoolchildren reportedly found a book in their school that listed all the people in the community who would soon die and the witches who would be responsible. iReport.com: Share your stories, videos from Africa
For Bosire and his family, the killings are hard to believe. His grandmother, Peris, was the matriarch of the family. She was 86 but still actively farmed and dispensed invaluable advice to the family.
Don't Miss
Up the road from Bosire's house lives Paul Magoma. "I believe there is witchcraft and the witches kill," Magoma says while building a chapel. His fellow workers concur: Witches exist and can put spells on people.
Others are skeptical the slain women were witches. At the top of a hill outside Kisii, Joseph Omache practices his craft. Omache is a shaman, or traditional healer. He throws bones and communes with ancestors to help heal physical and spiritual ailments.
"It is very painful when somebody kills another person in the name of witchcraft," he says. "Why couldn't they come to me so that I can perform my herbal potion to identify the real witch so that I can go ahead now to trap him and then we can see what to do?"
Omache says that in his 10 years of studies and decades of practicing, he has never come across a witch.
"These are vendettas. It is not that people really bewitched somebody," he says, adding he believes that witch hunts are really about people expressing hatred and coming up with an excuse to hurt someone.
The area is one of the most populated rural areas in Kenya. Over the years, farming plots have been divided and subdivided. Omache and others say they believe witch hunts are about greed and vendettas in a place where almost everyone struggles to survive.
Whatever the reason, Bosire and his family must live with the consequences. Due to local taboo, they will never live in his grandmother's house. The doors are boarded, her belongings still lie charred on the floor. The family fears further attacks.
"We are fearing for our lives," Bosire says. "I knew my grandmother since I was a young child and I have never seen evidence of her being a witch."
E-mail to a friend

All About Kenya • Murder and Homicide