HARARE, Zimbabwe (CNN) -- Zimbabwe "is effectively being run by a military junta" because of election-related violence, opposition leader Morgan Tsvangirai said Tuesday.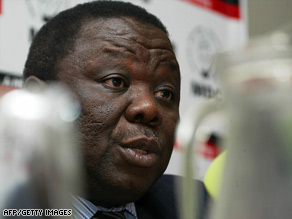 Zimbabwean opposition leader Morgan Tsvangirai hopes to be elected president June 27.
Tsvangirai said President Robert Mugabe has condoned recent widespread violence.
Tsvangirai told reporters that 66 people have been killed by Mugabe supporters since the election process started in March. He said 200 people are missing and 25,000 have fled the country.
The March 29 elections resulted in a bitter standoff between longtime leader Mugabe and Tsvangirai, and a runoff election has been set for June 27.

Learn more about Zimbabwe »
Tsvangirai and several other Movement for Democratic Change leaders were detained by police for 10 hours June 4 because they were going to attend an unauthorized meeting in southern Zimbabwe, MDC party spokesman Nelson Chamisa said.
No charges were filed, but authorities kept custody of the vehicles that the group was traveling in, added Chamisa.
Tsvangirai's statements Tuesday came amid a chorus of international criticism about election-related violence.
President Bush and British Prime Minster Gordon Brown have both criticized the process.
On Monday, a scathing report released by Human Rights Watch declared violence and torture have "extinguished any chance of a free and fair" runoff election in Zimbabwe.
Bright Matonga, a spokesman for Zimbabwe's government, denied Monday that the government had anything to do with the violence.
Matonga blamed it on Tsvangirai's party and said the government is cracking down on those who commit violence.
E-mail to a friend

All About Zimbabwe • Robert Mugabe • Morgan Tsvangirai