(CNN) -- Airline schedules in the Pacific Northwest were returning to normal early Tuesday as thousands of travelers stranded by weekend winter storms tried to find seats to reach their destinations by Christmas.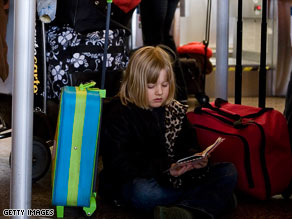 Mia Watson, 7, reads a book while she waits Monday at the Seattle-Tacoma International Airport.
Airline monitor FlightStats.com showed most flights back on schedule at Seattle-Tacoma International Airport in Washington and Portland International Airport in Oregon.
But with flights heavily booked for the holiday week, long waits were possible for those who missed flights since the weekend storms.
"Seats are few and far between, and I don't see a good end to this," a Delta Air Lines agent told travelers Monday at the Portland airport, according to The Oregonian newspaper. "You can stay here, but we can't get you out."
Just getting to the airports was a major problem for many.
Chains were required on vehicles in the Portland area as ice and snow covered roads. The city got more than 11 inches of snow during the weekend, and Portland and other localities were almost out of road de-icer, CNN affiliate KOIN-TV reported.
The city of Gresham, Oregon, declared an emergency and called in help from the National Guard, which dispatched six Humvees to get emergency responders through almost impassable roads, KOIN reported.
Multnomah County, which includes Portland, declared a state of emergency to last until January 5. Snow, rain or a mixture of both was in the Portland forecast through Monday, the National Weather Service said.
The forecast was similar in Seattle. Another winter storm was expected to roll into the Puget Sound area Tuesday evening, the weather service said. Another half-inch of snow was expected before changing to rain at lower elevations by Wednesday afternoon.
Seattle's wet weather also was expected to continue through Monday. The Seattle area got 8 to 12 inches of snow during the weekend.

Watch makeshift sleds in Seattle »
In eastern Washington, residents in the Spokane area were advised to stay home, CNN affiliate KHQ-TV reported. The area could get up to 7 inches of additional snow by Christmas morning, KHQ reported.
Spokane International Airport was faring no better than those to the west. Jared Jerabek told CNN affiliate KXLY-TV that he'd been stuck there for three days with two flights canceled.
"I get on the plane and they're spraying it with de-icer, and a big chunk of ice falls off and crushes the auxiliary power, and they send us off the plane and say go home," Jerabek told the station.
Moving eastward, the National Weather Service had a long list of places grappling with more bitter cold, snow, ice or rain.

Watch a roundup of the worst weather »
A storm warning was in effect until 5 p.m. Tuesday for the Four Corners region -- New Mexico, Arizona, Utah and Colorado. Near blizzard conditions are possible in higher terrain.
The weather service said much of central and northern Illinois could expect snow or freezing rain. Flights bound for Chicago's O'Hare International Airport were facing weather delays averaging more than three hours Tuesday, the Federal Aviation Administration reported.
Snow also is expected across a broad swath of the northern United States, from Montana to the Great Lakes states. iReport.com: Are you traveling for the holidays? Tell us how it's going
In eastern Texas and Southern California, the problem Tuesday will be rain and storms, the weather service said.
In St. Louis, Missouri, CNN affiliate KMOV-TV had a freezing rain advisory out early Tuesday, and highs aren't expected to crawl out of the 30s until Friday.
Farther north in Minneapolis, Minnesota, CNN affiliate KARE-TV said more snow is on the way and predicted a low of 5 degrees on Christmas Day, with some warming later. iReport: Show us your severe weather
New England was still digging out Tuesday from storms that began at the weekend.
Snow totals were as high as 13 inches in Lowell, Massachusetts, 11½ inches in Walpole, New Hampshire, 5½ inches in Burrellville, Rhode Island, and Burlington Center, Connecticut, the weather service reported.
Some Massachusetts residents -- including most of the town of West Fitchburg -- on Tuesday were going on 12 days without electricity after an earlier blast of wintry weather, CNN affiliate WCVB-TV in Boston reported.
E-mail to a friend

All About Winter Weather • Seattle • Portland