(CNN) -- Drivers across the country were warned Saturday to stay off roads and hunker down indoors as night falls, bringing more heavy snow and blizzard conditions in parts of the country.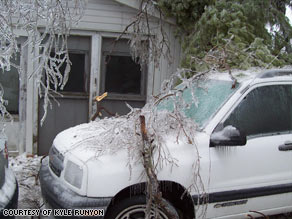 Illinoisan Kyle Runyon says the storm damaged his car and knocked down power lines on his property.
The National Weather Service said that conditions in Northwest Washington state are "extremely dangerous" and warned they could become "life-threatening."
At least one death has been attributed to this week's storms, which have delayed air traffic, caused havoc on the nation's roads and left thousands without power. And forecasters say there's more to come.
The Minnesota Department of Transportation ordered snowplow drivers off the road until Sunday morning in 13 southwest counties, because of poor visibility, blowing snow and wind gusts up to 40 mph, an agency spokeswoman said Saturday.
In neighboring Iowa, persistent car accidents caused by poor visibility and blowing snow led authorities to prohibit towing services and advise against travel on Interstate 35 north of Des Moines to the Minnesota state line.
"The number of accidents in Polk, Dallas, Boone, Story, Iowa, Poweshiek and Johnson counties are increasing sharply by the hour," Colonel Patrick Hoye with the Iowa State Patrol said in a statement. "As conditions deteriorate, we want to urge people to stay off the roads if at all possible."
Blizzard warnings are in effect for southwestern Minnesota, northwestern Iowa and southeast Dakota, with temperatures plummeting below zero in parts of Minnesota and South Dakota and scattered snowstorms throughout the region, according to the National Weather Service.

See wintry weather scenes from across the country »
Swaths of the Midwest that were covered in snow Thursday and Friday were left to contend with the storm's damage Saturday.
iReporter Kyle Runyon of Chatworth, Illinois, said the storm had knocked down several trees on his property, damaging power lines and his SUV.
"Driving through town is still dangerous because it's so icy," Runyon said. iReport.com: What's going on in your neck of the woods?
Northwest Washington is also under a blizzard warning until 10 a.m. Sunday, with forecasts of 9 to 10 inches of snowfall Saturday night and wind gusting up to 50 mph along the Strait of Juan de Fuca, the weather service said.
"The strong winds tonight will cause whiteout conditions, which will disorient anyone driving or caught outdoors," The weather service said. "Traveling on Highway 112 will be extremely dangerous tonight into Sunday morning."
Snowfall in the Olympic Mountains will reach 1 to 2 feet, with wind gusts in excess of 75 mph, the weather service said.
Parts of the region have already seen 2 to 3 feet in snow. On Friday, two buses carrying 80 people collided on a road in Seattle, and crashed through a metal railing, where they hung over a freeway for several hours before two trucks rescued them.
The storm system is expected to move eastward through the weekend, where people are already dealing with air traffic delays and power outages brought on by snowfall earlier this week.
"This is essentially the reincarnation of the same storm that brought the heavy snow to parts of California, southern Nevada and northern Arizona," Steve Corfidi, lead forecaster with the weather service's Storm Prediction Center in Norman, Oklahoma, told CNNRadio.
"There could easily be up to a foot of snow over parts of Illinois, northern Indiana, perhaps into parts of Michigan and southern Wisconsin, eastward into parts of New York and Pennsylvania," Corfidi said.
A Massachusetts man died instantly when a tree limb weighed down by snow fell on him, authorities in Acushnet said.
The 44-year-old man and his neighbor were trying to saw a large tree limb Friday that had snapped under the weight of snow and heavy winds, Acushnet Police Chief Michael G. Alves said in a statement.
The saw apparently became stuck, and as the men worked to free it, the limb snapped and fell on one of them, Alves said.
The rest of the tree fell and brought down two power lines, in the first storm-related death reported since heavy snows and winds began ripping across the country earlier this week.
In northern Connecticut, western and central Massachusetts and southwest New Hampshire -- areas that received several inches of snow Friday night -- the weather service warned that "a winter storm Sunday will have a tendency for greater extremes than Friday's storm."

Watch snow bury Connecticut »
About 4 to 8 inches of snow are expected to blanket New England, with 11 inches in some places, forecasters predicted.
"We got about a foot of snow last night, and it's still snowing now but not really accumulating," said iReporter Mary Ellen Wessell of Rochdale, Massachusetts. "Tomorrow they're saying very wet and heavy snow."
Thousands of homes in New Hampshire remained without power Saturday night, raising the ire of some residents who have been waiting more than a week for electricity, authorities told CNN affiliate WMUR.

Watch how people are reacting to power outages »
Signs pleading for help were posted on power company barricades, and one resident attempted to run a truck off the road, WMUR reported.
Airline passengers across the country fared better Saturday than on Friday night, when hundreds of flights were canceled because of the weather, but delays still plagued major airports for most of the day.

Watch travelers stranded in Michigan »
Nearly 50 flights were canceled Saturday at the three metro New York airports -- 28 at Newark Liberty, 15 at John F. Kennedy and six at La Guardia, according to Alan Hicks, spokesman for the Port Authority of New York and New Jersey. Some 800 flights for those airports had been canceled Friday night.
Flights at JFK, Newark, and other major airports are about back to normal.
At Seattle-Tacoma International Airport, Alaska Airlines on Saturday canceled 47 flights into Vancouver, Seattle and Portland in anticipation of the storm, spokesman Perry Cooper said.
E-mail to a friend

CNN's Taylor Gandossy, Emanuella Grinberg and CNNRadio's John Lorinc contributed to this report.
All About Winter Weather • Seattle • New England States