(CNN) -- At least 800,000 customers in New England are still without electricity on Sunday after an ice storm ravaged the region, officials say.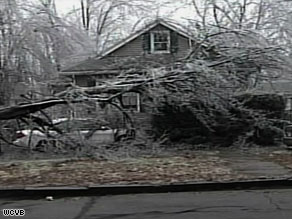 An ice storm felled many trees in Boston and elsewhere across Massachusetts.
President Bush has authorized federal aid by declaring a state of emergency in New Hampshire and Massachusetts.
Joseph Shoplack stayed at a Red Cross shelter Saturday night in Southwick. He lasted only one day in his home without power or heat. "They came [Saturday] and asked me how am I and I said, 'It's awful, it's very, very cold and I'm not well,'" he told WWLP Channel 22.
State officials have asked FEMA for cots for 70 shelters, where 1,800 people slept in shelters Saturday night, said Massachusetts Emergency Management Agency spokesman Peter Judge. It may take two days to restore power to all the affected homes.
"The problem is there is so much debris on the roads from the storm [that] our crews cannot get to some places," Judge said.
It may also take two days to return power to homes in Maine, officials said.

Watch how difficult it is for workers to get through the streets »
He said 750 National Guard troops have been sent to help.
Although much of the ice melted Saturday, it froze again Saturday night.
Don't Miss
Entire towns, such as Westford, in northeastern Massachusetts, have no power.
Red Cross volunteer John Noble said he wants crews to check on pipes in people's homes to prevent them from bursting. He said he's worried about his own house. iReport.com: 'It looks like a war zone here'
"Get some more help, get some road crews out there [and] I think they should make a stronger effort," Noble told WWLP. "When the generator dies we're all going to be down here, so I'll be working the shelter but I'll also be living in here."
Milder weather was forecast for Sunday.
E-mail to a friend

CNN's Tom Watkins and Lateef Mungin contributed to this report.
All About Massachusetts • FEMA