By Marsha Walton
CNN
EAST BATON ROUGE PARISH, Louisiana (CNN) -- The words "first responder" get used a lot during disasters like Hurricane Gustav. What's not always communicated is just how wet, difficult and dangerous these jobs can be.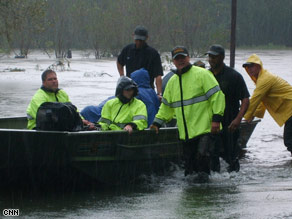 Rescuers use a boat to ferry a wheelchair-bound woman (in blue slicker) from her flooded home.
Rescuers here waded through waist-high water Tuesday to reach a woman in a wheelchair trapped in her home. The water was nearly 3 feet high and rising the day after the storm because of a levee break behind her house.
Capt. Richard Harris, a 24-year veteran of the East Baton Rouge Parish Sheriff's Department, was halfway through his 16-hour shift when he got a call about the trapped resident. He had gotten three hours of sleep the night before after working another double shift.
Several other officers were at the scene as Harris headed for the woman's neighborhood in his large Dodge Durango. The downpour let up only occasionally as he drove to the far northwest side of the parish.
The remnants of Gustav dumped more rain on the area Tuesday than the storm itself did Monday.
Along the route, hundreds of trees were down. Many were freshly cut and pushed to the side of the road by the Department of Public Works, and others still leaned on power lines, awaiting removal. Plenty more lay where they fell, crushing houses and cars and blocking intersections.
Over the radio, a colleague said he was headed to the scene with a boat from an East Baton Rouge Parish sheriff's substation.
Inching through water that sometimes covered the SUV's wheels, Harris met up with about a dozen officers from the SWAT team and the sheriff's marine response team.
Physician Vince Shaw, a volunteer with the sheriff's office, waded into the house to evaluate the woman's situation. He waded back to the staging area as the boat and other officers arrived.
Shaw and the others agreed that the safest way to move the woman was to lift her, wheelchair and all, into the metal boat. Several officers, including Col. Bobby Callender, third in command at the sheriff's office, loaded her into the boat and ferried her to safety, sloshing through waist-deep water.
If that scenario wasn't challenging enough, there then came a radio call to all units: "We're now under a tornado watch."
After the short boat ride, Shaw bandaged the woman's foot. Rescue crews loaded her into a family member's pickup and took her to higher ground.
Not all the work of these officers is as challenging as a rescue in rising floodwaters. After the most brutal of Gustav's winds passed Monday, officers, including Harris and Callender, spent hours between calls using chain saws to clear trees.
"I had to change blades twice!" Callender said.
"We worked all night, and it hardly looked like we did a thing," Harris said.
While a curfew was in effect, Harris and others also made 18 arrests the night of Gustav's strike.
Harris said one driver was jailed after she hit a tree and some power lines. She explained that she was returning from a hurricane party, gatherings often known for their adult beverages.
Other officers concentrated on vulnerable businesses, such as jewelry stores, gun stores and gas stations. There were three arrests for looting Monday night.
By late Tuesday, a few people had ventured out, and some gas stations and stores had reopened. There was a line out the door of the Ambrosia convenience store, where residents stocked up on soft drinks, beer and cigarettes. A full day without power and other necessities revealed a few disheveled customers.
Harris has a few battle scars from many years of responding to disasters. Seven years ago, on a call after a tornado, a falling tree limb knocked him out. He required 18 stitches and still has a scar on his head.
Though rescue crews face plenty of legitimate emergencies, most officers say that a lot of their work before, during and after natural disasters is dealing with people doing dumb stuff, like sightseeing.
Parish and federal officials are gearing up for the next wave of predatory post-storm criminals, such as fake city workers who tell residents they need a cash deposit to start clearing trees or online crooks claiming to be raising funds for hurricane victims.
"Already, 100 domain names with the words 'Gustav,' 'relief' and 'donate' have been registered," said David Dugas, U.S. attorney for the middle district of Louisiana. These Web sites have not been registered by the Red Cross or the Salvation Army, he said.
"Be wary," Dugas said. "In addition to everything else you have to deal with, you don't want to have your identity stolen."
E-mail to a friend

All About Hurricane Gustav • Louisiana • Natural Disasters