By Eliott C. McLaughlin
CNN
(CNN) -- As Hurricane Katrina honed in on New Orleans, Louisiana, three years ago, anxious residents -- unaware that the storm would register as one of the most destructive forces of nature on record -- pondered their options.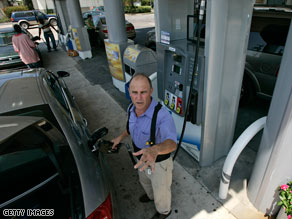 Preparing for a possible evacuation, Stephen Mayeux fills his car Thursday with fuel in New Orleans.
Some ran to places like Houston, Texas, and Atlanta, Georgia. Others stayed and sought refuge in shelters and the Superdome as Katrina ground up the Crescent City and left her in tatters.
Fool me once, the saying goes.
This time, say residents, with Tropical Storm Gustav still more than 1,000 miles away, the storm won't have a chance to sneak up on anyone.

See Gustav's projected path »
"We can't tell God what to do. If God wants to send a storm, we've got to get out of the way," said the Rev. Sam Green, 71, a Baptist minister who owns a barber shop and beauty salon in the Carrollton section of the city.
When Katrina came, it sent 7 feet of water into the first floor of his Hollygrove home: "Lake Ponchartrain came in my house," he said. He had plenty of food and a kitchen on the second floor, so he moved upstairs for a few days until he was forced to evacuate.
After six weeks that took him as far away as Dallas, Texas, and Memphis, Tennessee, Green returned to the city he had called home for almost 50 years.
Don't Miss
This time, Green said, he and his wife, Lillie, will be the first to go if Gustav gets anywhere near New Orleans. He has another home 70 miles north in Varnado, Louisiana, complete with food and clothes, so he's not concerned about his belongings, aside from an extra supply of high-blood pressure medication.
"I'm not worried," he said. "You can have $1 million, but if you die, you're broke."
Merrick Matherne, 38, has no alternate home, but he's already reserved a hotel room in Jackson, Mississippi, and called a friend in Atlanta just in case Gustav barrels farther inland. iReport.com: Gas shortages in Louisiana
Matherne and his wife, Kelly, live in nearby Metairie, Louisiana, with their two daughters, 2 and 9. The Mathernes are awaiting federal funds to raise their home 40 inches after Katrina left it mired in more than 2 feet of water, he said.
They were displaced for eight months, most of which they spent at Matherne's sister's home, also in Metairie. Katrina didn't seem threatening when it came through the Gulf, so they waited until the last minute to leave, grabbing what belongings they could on their way out the door.
Gustav is inspiring "borderline panic attacks," Matherne said, describing the emotional stress he's suffering after Katrina. "It's hitting me strange. I'm never a person to worry or panic. I am now."
His wife was at home Thursday, packing up their belongings, including important documents, family photos, clothes and toys, he said from work.
Preparedness is a theme in Louisiana. Gov. Bobby Jindal has preemptively declared a state of emergency and urged residents to update their evacuation plans. New Orleans Police Chief Warren Riley said hundreds of officers will be posted in the uptown, downtown, Central City and West Bank areas to ensure an adequate law enforcement presence in the event of an emergency.

Watch Homeland Security Secretary Michael Chertoff discuss preparations »
During Katrina, many New Orleans officers were accused of leaving their posts as widespread crime and looting permeated the city. Sixty-seven officers were fired for it, Riley said.
Other preparations involve longer-term outlooks. Matherne said he's asked his wife to pick a desirable place to move if Gustav causes destruction anywhere near the scale of Katrina.
"I told my wife, 'Wherever we evacuate, you'd better like it, because we're staying there,' " he said.
In the city's Gentilly area, several residents said they, too, were readying themselves in the event Gustav steered toward Louisiana.
"I'm concerned enough to be getting things in order," said Sandra Lewis, 65, referring to her insurance documents and prescriptions. "We did go and pick up some refills yesterday, so the medicine we have will tie us over for a couple of weeks."
She and her husband, Bernard, 67, who fled to Houston and then San Antonio, Texas, after Katrina, are packing twice the clothes they took with them when they fled in 2005.
They also have two evacuation routes, she said. If the storm goes to the west, they'll head to Birmingham, Alabama; if it goes east, they'll make for San Antonio.
Mertes Troullier, 76, and his wife, Mildred, are also watching Gustav, which is predicted to make landfall anywhere between Mexico and Florida next week.
"As it gets into the Gulf, we'll be ready," Troullier said Thursday before dropping by the pharmacy and the post office. "I need to go by the bank, have a little spending cash," he added to his list of errands.
Pearlie Tyler, 56, has been busy packing and making important decisions as well. Tyler lived briefly with 21 people in a two-bedroom Baton Rouge, Louisiana, apartment belonging to her niece, who was in nursing school at Louisiana State when Katrina struck. iReport.com: No bread in Baton Rouge
She eventually relocated to Covington, Louisiana, and then to a fellow church member's home in New Orleans until she could rebuild the house she had shared with her brother, L.D.
When she finally moved back, she made sure to put her home, flood and life insurance documents on disc, as well as copies of her birth certificate, passport and Social Security card.
"I've always kept them ready to go at a moment's notice," she said, adding that she had just put her jewelry in a pillowcase and packed up pajamas, slippers, a small Bose stereo, a collection of gospel and jazz CDs and 20 of her favorite outfits.
Many residents took insufficient clothes and medicine when they evacuated for Katrina; they say the entire city was under the impression New Orleans would be out of commission for only a few days.
The Troulliers lived in Fairfield and Hoover, Alabama, for 14 months after Katrina, so they'll be taking at least two weeks' worth of clothing if they have to head to their daughter Sybil's home in Birmingham, Alabama.
When he spoke Thursday, Troullier said he and his wife were determining which belongings they must take with them and which ones they can simply put on closet shelves or atop the refrigerator to avoid potential floodwaters.
If Gustav floods their Gentilly home, as Katrina did, Troullier said, he'll have to move, despite his love for New Orleans.
"I just fear it's time to move on if it happens again," he said. "If it happens once, it's once in a lifetime. If it happens twice, you'll never feel comfortable."
Although Gustav could mark a last straw for families like the Mathernes and Troulliers, there are some who say nothing could pull them away from New Orleans, its unique culture, the people, the food.
Lewis said, if nothing else, she has to return for the crawfish, the shrimp po' boys and red beans.
"They have them in other places, but they don't taste the same," she said. "I've been here most of my life, and my husband has been here most of his, and there is no place like New Orleans. There is no place like home."
E-mail to a friend

CNN's Christy Oglesby, Jackie Adams and Eric Marropodi contributed to this report.
All About Hurricane Katrina • New Orleans • Louisiana • Bobby Jindal