TALLAHASSEE, Florida (CNN) -- Tropical Storm Fay was in no hurry as it made its way across the northern Florida peninsula Friday, its torrential rains and fierce winds leaving a trail of destruction behind and portending the future for areas in its path.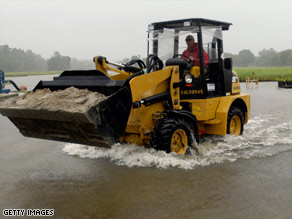 A nursery worker builds a berm to control flooding Thursday in New Smyrna Beach, Florida.
The National Hurricane Center discontinued a tropical storm warning that had been in place on the northern part of Florida's Atlantic coast, but its central and northeast coast were left to deal with raging floodwaters that have caused millions of dollars in damage.
By Friday afternoon, rainfall amounts included 26.65 inches in Melbourne, 22.83 at Cape Canaveral and 20.75 at Palm Shores. The St. Johns River overflowed in Jacksonville, which felt the brunt of the storm early Friday afternoon.
"Tropical Storm Fay has produced excessive rainfall because it has always been near or over very warm water. The state of Florida is too skinny east to west to have ever cut the moisture off from Fay completely," CNN meteorologist Chad Myers said.

Watch flooding drive people from their homes »
Heavy rain also was reported in parched southern Georgia and southeast Alabama, the National Hurricane Center said.
Seven deaths in Florida were blamed on the storm. The storm claimed at least 10 lives in Haiti as it passed through the Caribbean last week.
Gov. Charlie Crist announced six of the deaths: two by drowning, three in traffic accidents and one by carbon monoxide poisoning.
Nassau County Sheriff Tommy Seagroves said the seventh fatality was a man who died Friday after his car struck a tree on U.S. 1. The man's companion was in critical condition, Seagroves said. iReport.com: Watch a mail truck forge through floodwaters
The center of the storm was about 50 miles 50 miles south of Tallahassee at 11 p.m. ET Friday, moving west at 8 mph, the National Hurricane Center said.
Sustained winds are 50 mph, extending out 90 miles from the center.
"The center of Fay is expected to continue crossing the northern Florida peninsula tonight and then move near or over the Florida Panhandle on Saturday," the hurricane center said.
Fay has made landfall three times in the past four days on Florida's coast after making landfall twice in Cuba. A fourth landfall in Florida is possible if the storm moves into the Gulf of Mexico on Friday night, forecasters said.
A tropical storm warning for the Florida coast extended form Aripeka northward and westward to Destin. A warning means storm conditions are expected within 24 hours.
A tropical storm watch, which anticipates storm conditions within 36 hours, was in effect from Destin west to the Mississippi-Alabama border, the hurricane center said.
"The damage from Fay is a reminder that a tropical storm does not have to reach a hurricane level to be dangerous and cause significant damage," Crist said Friday morning.
Storm-surge flooding of 2 to 4 feet above normal tides is possible along the east coast of Florida and Georgia and in the warning area along the Florida Gulf Coast, forecasters said.iReport.com: Watch a family navigate their flooded neighborhood
Fay is expected to produce 4 to 8 inches of rain in the next 36 hours over the northern Florida peninsula, the Florida Panhandle, southern Georgia and southeastern Alabama, with isolated amounts of 12 inches possible. Up to 2 inches of additional rain may fall over central and southern Florida.
Ana M. Viamonte Ros, secretary of the Florida Department of Health, warned residents of the dangers of playing in flooded areas because of raw sewage, downed power lines, mosquitoes and animals seeking higher ground.
Friday afternoon, a state spokeswoman said Florida has requested a national emergency grant of $20 million from the U.S. Department of Labor. The money would be used for humanitarian assistance, a jobs program for tasks such as clearing debris and helping businesses recover, she said.
President Bush declared a state of emergency for Florida on Thursday to free up federal aid from the Department of Homeland Security and the Federal Emergency Management Agency.
E-mail to a friend

CNN's Sean Morris and John Zarrella contributed to this report.
All About National Hurricane Center • Florida