(CNN) -- Tropical Storm Edouard is not expected to make landfall in Texas until Tuesday morning, but forecasters warned the storm could spawn tornadoes as soon as Monday evening.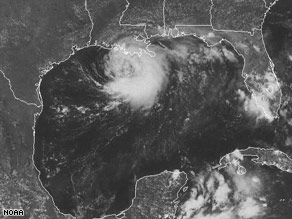 Tropical Storm Edouard, here at 6:15 p.m. ET Monday, is picking up speed as it heads to Texas.
Forecasters expanded warnings early Monday along the Gulf Coast in Texas as Edouard picked up speed.
A tropical storm warning was in effect from the mouth of the Mississippi River, just south of New Orleans, Louisiana, to Port O'Connor, Texas.
A warning means that tropical storm conditions are expected within the warning area within 24 hours.
A hurricane watch, which means hurricane conditions are possible within 36 hours, was in effect from west of Intracoastal City, Louisiana, to Port O'Connor.
The National Hurricane Center in Miami, Florida, said in its 2 p.m. ET advisory, "Isolated tornadoes are possible over portions of southern Louisiana and the upper Texas coast later today and tonight."
Despite the threat of inclement weather, Edouard seemed to be causing few problems in the Gulf of Mexico, where employees on thousands of oil rigs and platforms produce and search for oil.
The price of oil dropped $3.69 Monday to settle at $121.41 a barrel on the New York Mercantile Exchange.
"That's going to be a nonevent," said Tom Orr, head of research for Weeden & Co. "It's moving away from oil-producing facilities." iReport.com: Is Edouard heading your way?
Some companies reported minor disruptions and small-scale evacuations, but others said Edouard posed no threat to their workers, some of whom are more than 100 miles (160 kilometers) offshore.
ConocoPhillips said Edouard is not disrupting its exploration or production activities. Shell Oil reported that it had evacuated about 40 personnel from its operations in the western Gulf, but the company didn't expect any impact to its production activities.
Rowan Cos., a drilling outfit with nine rigs in the Gulf, left most of its workers in place, except on its rig about 30 miles off the coast of Galveston, Texas. Employees also were preparing for flooding at a company shipyard in the Sabine Pass, on the Texas-Louisiana border.
Rowan spokesman Bill Provine said Monday morning that one of its rigs was in Edouard's eye and employees were reporting winds of about 35 mph.

See hurricane tips 101 »
"They're probably shooting pool or probably eating," Provine said of the rig workers. "It's not a big deal."
Diamond Offshore Drilling Inc. also expects to evacuate a rig outside Galveston, said Senior Vice President Gary Krenek.
Richard LeBlanc, spokesman for ENSCO International Inc., said the storm formed too quickly to evacuate workers but said oil rigs in the Gulf were designed to withstand tropical storms.
"We've certainly ridden out much tougher storms than this," he said.
Edouard's center could be "very near the upper Texas coast or the coast of southwestern Louisiana by Tuesday morning," according to the hurricane advisory.

See a projection of Edouard's path »
"Edouard could be nearing hurricane strength before reaching the coastline," it said.
The storm started as a depression Sunday in the Gulf of Mexico.
At 2 p.m. ET, the center of the tropical storm -- the fifth one this season -- was about 145 miles south-southeast of Lafayette, Louisiana, and about 240 miles east-southeast of Galveston, the hurricane center said.
The storm was moving west-northwest at nearly 8 mph. Its maximum sustained winds were near 45 mph, with higher gusts, the hurricane center said.
Tropical storm-force winds extend up to 45 miles from the center.
Edouard is expected to dump up to 5 inches of rain along the Louisiana coast, and "maximum amounts of 10 inches are possible over southeastern Texas," the hurricane center said.
E-mail to a friend

All About Louisiana • Gulf of Mexico • Galveston