(CNN) -- Andrew Sherburne, flooded out of his Iowa City house last week, might like a do-over.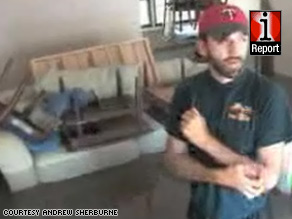 Andrew Sherburne stands in his Iowa City house on June 13, the day after it was flooded.
He spent six days, 10 hours a day, helping to build a mile-long sandbag levee at his neighborhood near the Iowa River.
The levee was 6 feet high in some places, but it still wasn't enough to keep the swollen river from sweeping into his home June 12, ruining couches, beds and other things he didn't have time to save.
Sherburne and his wife bought flood insurance 10 days before that -- just days after buying the house -- but it wasn't soon enough. Thirty days must pass before the policy is activated, he said, and the insurer has rejected the claim he filed.
"We had spent so much time building up the levee, and it didn't hold. We would have been better off getting stuff out of there," Sherburne, 29, said Thursday. iReport.com: Watch Sherburne tour his flooded house
Sherburne's house was one of several hundred evacuated in Iowa City alone this month. The U.S. Army Corps of Engineers has said that about 20 levees in the Midwest have been compromised -- about 11 around St. Louis, Missouri -- resulting in flooding of homes and farmland.
In Winfield, Missouri, the water in Mark Krull's basement stood at 4 feet Thursday. Outside, floodwater lingered about 6 feet from his house.
Regardless, he and his wife are staying right where they are, on a road along the Mississippi River. They had moved belongings up from the basement ahead of the flooding, he said.
Don't Miss
"This place has been here for a long time," he said.
"It's just going to come up and be a mess," he said of the water that began flowing Wednesday through a breach in a levee.
The breach sent floodwater toward a secondary levee and prompted emergency officials to evacuate residents east of Winfield.
In Oakville, Iowa, farmers and brothers Dave and Dan Lanz have seen about 1,600 acres of their cornfields -- representing about two-thirds of their acreage -- flooded.
"It's devastation," Dan Lanz said. "We'll probably be spending a lot of our fall, [when] we would normally be harvesting crops, doing repairs to irrigators and buildings."
Luckily, the brothers were able to get their livestock, about 2,400 hogs, to safety. Their homes are OK, but the homes of their aunts, uncles and grandparents are flooded.

Watch the brothers talk about the flooding »
"There will be some tough decisions ahead, whether to fix them up or rebuild somewhere else," Dan Lanz said. "There's just lots of questions to answer yet."
In Iowa City, Sherburne and his wife, Elizabeth Graf, are living in a spare townhouse owned by one of Graf's co-workers, and they don't expect to return to their house for another week.
Time rarely seemed to be on his side as the floodwaters approached his house.
He said authorities knocked on his door about 1:30 a.m. June 12, telling him he needed to evacuate in 30 minutes.
"Most everybody [in the neighborhood] got out in about 30 minutes just because that's what the cops told them to do. We said, 'There's no way. We're going to save as much as we can,' " Sherburne said in a video he submitted to CNN's iReport.com.
He said he and his wife took two hours to gather what they could.
"Maybe about an hour and a half after they issued the warning, they told us we had five minutes, otherwise they were going to arrest us," Sherburne said. "The sad thing is, it probably wasn't another four hours before any water started coming in once the rain started.
"They kicked everybody out anyway. We could have had four more hours. We could have saved the couches; we could have saved the furniture. We could have gotten everything out."
Going against authorities' wishes, he returned to his house June 13, using a friend's canoe to get there. His iReport video shows him walking through the home and trying to salvage what he could. Water inside was about 2½ feet high, past his kneecaps.
Sherburne, a documentary filmmaker and publisher of an Iowa City arts and culture magazine, said he had heard reports that the river wouldn't crest as soon as it did. He had planned to rent a U-Haul truck to take his belongings away, but the evacuation order came before he could execute that plan.
Some houses in the neighborhood sustained more severe flooding. Sherburne said he has heard neighbors say they hope they are bought out of their homes so they can start over.
He said he'd like to be able to live in his house again, and he might not have much choice other than to clean up and make a go of it. He and his wife owe a lot on the house; they have yet to make the first mortgage payment.
"Unless there's a good buyout option, I'm not sure what we'll be able to do," he said.
E-mail to a friend

CNN's Jason Hanna and Taylor Gandossy contributed to this report.
All About Floods • Iowa • Mississippi River