(CNN) -- Four Boy Scouts who died Wednesday when a tornado swept through a wilderness camp were remembered for the very qualities that had brought them to the camp in the first place.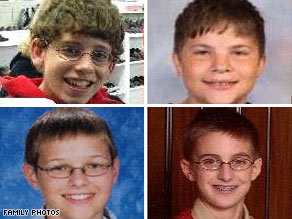 Clockwise from top left: Sam Thomsen, 13; Josh Fennen, 13; Aaron Eilerts, 14; and Ben Petrzilka, 14.
Josh Fennen, 13, Sam Thomsen, 13, Ben Petrzilka, 14 , and Aaron Eilerts, 14, were among 93 Boy Scouts who were chosen by their troop leaders to attend leadership training this week at the Little Sioux Scout Ranch outside Omaha, Nebraska.
In addition to the deaths, 48 Scouts and staff members were injured.
Friends on Thursday described the fallen Scouts as multitalented, dedicated teens whose enthusiasm for life was matched only by their passion for Scouting.
Aaron Eilerts' best friend described him as a "kindhearted" person who took his commitment to Boy Scouts very seriously.
"He would do anything that you asked him to do," Colby Gochanour, told CNN's Larry King. "He just helped people."
As a member of the Humboldt Boy Scout Troop No. 108 in Eagle Grove, Iowa, Aaron used his own money to make pillowcases for hospital patients, Gochanour said.
He tried to donate the pillowcases to hospitals during a family vacation to Memphis, where he visited the home of Elvis, one of his heroes, according to a story that was published in the Eagle Grove Eagle last year.
Aaron extended the same dedication to making fleece blankets for the Humane Society, according to the Omaha World-Herald.
"He embodied everything Scouting stands for," Dawn Sievertsen, principal of Robert Blue Middle School in Eagle Grove, Iowa, told the newspaper. "He would start these projects to earn badges, but took them very seriously and would continue them long after he earned the badge."
People who knew Josh Fennen of Omaha said he used many of the skills he learned in Scouting in everyday life.
"We'd go hiking. He was a good hiker. He knew what to do, how to start fires and good with pocketknives," Josh's best friend, Jack Cormaci, told affiliate KETV. "He'd always be there when you needed him, always playing outside."
Jeff Alfrey, the principal at Andersen Middle School, where Josh recently finished eighth grade, described Josh as inquisitive and confident, with natural leadership qualities, according to the Omaha World-Herald.
"He was a good student, a hard worker, and he was always trying to be creative," Alfrey told the newspaper.
Sam Thomsen, who was days away from his 14th birthday, divided his time among the Boy Scouts, sports, home-schooling and the Southwest Church of Christ, according to the Omaha World-Herald.
Sam's Facebook page, where he last wrote, "Sam is ready for a week in the great outdoors," lists his interests as Jesus, football, video games and the Roadrunners, a basketball team for home-schooled children, according to the newspaper.
"He was always just full-board with everything he did, whether it be church or Boy Scouts or sports," Dr. Jim White, pastor of Southwest Church of Christ, told Larry King. "He always had a wonderful, engaging smile on his face."
Ben Petrzilka, who just finished seventh grade at Mary Our Queen Catholic School, was remembered as kind and caring.
"He always gave it his best effort. It is a very devastating loss to the school," principal Kayleen Wallace told the newspaper.
A candlelight vigil was scheduled for Thursday evening at the Durham Scout Center in Omaha, the Boy Scouts said.
E-mail to a friend

All About Iowa • Natural Disasters • Nebraska • Omaha