By Ninette Sosa
CNN Radio
(CNN) -- Utah is the nation's fastest growing state, increasing 2.5 percent from July 2007 to July 2008, according to new population estimates from the Census Bureau.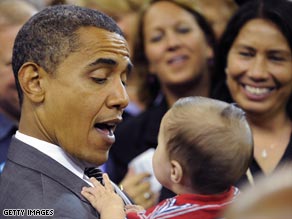 Barack Obama greets one of the newest members of the U.S. population this year on the campaign trail.
The main reason for Utah's growth is a "natural increase" -- births minus deaths -- said Census Bureau demographer Greg Harper.
"Utah has a strong rate of natural increase and domestic migration, where more people move into the state and [are] not moving out," he said.
"Second is Arizona," Harper said. "It grew by 2.3 percent, and the increase is due to domestic migration, meaning more people are moving into the state than moving out. Also, it's a natural increase, more people were born there than died."
Arizona is followed by Texas, North Carolina and Colorado, each with a 2.0 percent growth rate.
Texas added more people than any other state -- about 500,000 -- making it the third-fastest growing state. Because it has a larger population size, its percentage growth was less than Utah.
"Nevada was last year's fastest-growing state, but it fell to eighth," said Harper. "Overall, that state had been among the four fastest-growing states each of the past 23 years."
Only two states lost population: Michigan and Rhode Island, losing 0.5 and 0.2 percent respectively. Overall, Northeastern states are not growing as fast as other parts of the country, but they have been on the increase since 2005.
The South added the most people during the period, 1.4 million. But Western states, with a 1.4 percent increase, saw the fastest growth rate.
One state that has reversed its course of growth is Florida. A few years ago more than 250,000 people per year were moving there. But for 2007-2008, the state's 0.7 percent increase was below the nation's 0.9 percent overall increase.
According to the estimates, the United States had a net gain of just over 2.7 million people from July 2007 to July 2008.
E-mail to a friend

All About U.S. Census Bureau • Texas • Arizona • Utah