By Katie Hawkins-Gaar
CNN
(CNN) -- The streets are dark and the town is deserted, but Pam and Warren Adams still put up Christmas lights outside their Gilchrist, Texas, home. It is one of the few remaining after Hurricane Ike devastated the area in September.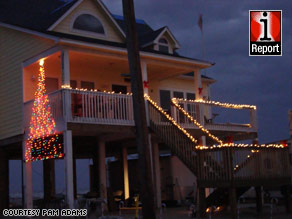 Pam and Warren Adams decorated their Gilchrist, Texas, home for the holidays. It was one of the few houses left standing after Hurricane Ike slammed the coastal town.
When Ike hit Gilchrist on September 13, it destroyed nearly everything in its path. Most of the 200 or so houses there were flattened by the storm surge, and the Adams home was the only one left standing on the Gulf Coast side of the town.
Now, the couple has returned to repair their battered home. Warren Adams is living in an RV trailer on their beachfront property. Pam Adams, 53, who spends the week at an apartment in Baytown, Texas, drives more than an hour to visit their home each weekend.
"I think it'd be a little scary staying down there, with no one around and no power," said Judy Hudspeth, Pam Adams' sister. She shared the couple's story on iReport.com.
"They were going to buy somewhere else and keep that house as a weekend home," Hudspeth said. "But [Pam] couldn't stand it. That's her home. She said there have been too many good times there; she wasn't leaving."
"I'm so proud my house survived," Adams said. "I didn't realize how much I loved the house until I moved into this apartment."
Adams said she and her husband would sit on their balcony and watch the ocean and sunset in the evenings. "I want everything back the way it was," she said. "I want my neighbors back."
Don't Miss
Because their home survived the hurricane, Adams said she imagined everything would be unscathed inside. "My house was always perfect," she explained. "I mean, I would get upset with Warren when he would leave a mug on the table."
But everything was waterlogged and covered in mud. Adams said they had to throw clothing, furniture and other destroyed possessions out their windows to stop mold from growing. "At that point, I realized material things don't matter," she said, joking that she'll allow Warren to leave mugs lying around from now on.
The Adamses moved to Baytown shortly after Ike destroyed Gilchrist and the surrounding area. Warren, 63, is retired and started going "stir crazy" after a few weeks there, his wife said. He decided to take their trailer down to Gilchrist, where he has spent the past few months working on rebuilding proposals and meeting with contractors.
But rebuilding has barely begun. The couple hasn't received any insurance payments since Ike slammed Gilchrist.
According to the Texas Department of Insurance, more than 73,000 Ike-related insurance claims had been filed as of December 13, and that number is expected to increase. Homeowners, renters and business owners who suffered damage from the hurricane can register for state and federal disaster insurance until January 12.
Adams said she has been in contact with their insurance company but doesn't know when to expect payment. "It's just a mess. I think [Ike] overwhelmed them," she said. "They're still trying to figure out where flood damage ends and wind damage begins."
Warren decided to pay to build an outdoor stairway with their personal savings. Climbing a ladder to get in and out of the home, which stands on 14-foot wooden columns, proved too arduous over time.
"I'm trying to be patient," Adams shared. "I have to be. We're the only home standing. Our neighbors deserve to be first."
'There is still life in Gilchrist'
On Friday, December 12, the couple watched the sun set from the beach home balcony. Adams was struck by the sight and snapped photos the entire time. "It was the prettiest one I've ever seen," she said. "It brought tears to my eyes."
After the sun was gone and darkness enveloped the town once again, Adams asked her husband if they could put Christmas lights on their home. Her rationale was simple: "When people drive by, there's so much destruction around. I thought there should be something nice to look at."
The next day -- 12 days before Christmas and three months after Hurricane Ike hit -- Adams bought $50 worth of holiday lights. Warren decorated their stairs and created a multicolored Christmas tree, illuminated by power from a generator.
The home is visible from Highway 87, which stretches along Bolivar Peninsula. Passengers on the Bolivar Ferry can spot the Christmas tree from afar. iReport.com: See the original iReport on this home
Adams described the lights as a beacon in the dark, proving "there is still life in Gilchrist." She said countless friends, former neighbors and passers-by have thanked them for the holiday display. One woman even expressed her gratitude "for giving my children hope."
The couple isn't planning much for Christmas this year. They will cook dinner -- turkey breast, cornbread, stuffing and green beans -- in their RV kitchen, and spend the holiday together at their beach home with their two dogs.
There will be no presents or visits with friends and family. It didn't seem appropriate, Adams said. "Everything's so depressing. We didn't feel like we should be celebrating when everyone's suffering so badly."
But the couple has big hopes for next year. "It'll be a big Christmas with the neighbors," Adams exclaimed. "We'll fry turkeys, and there will be a lot to celebrate."
Adams said she's looking forward to 2009. "I just want to get back home and watch all the structures go up in Gilchrist. We want to be the welcoming committee. We just want everyone to return."
E-mail to a friend