By Campbell Brown
CNN

Editor's note: Campbell Brown anchors CNN's "Campbell Brown: No Bias, No Bull" at 8 p.m. ET Mondays through Fridays. She delivered this commentary during the "Cutting through the Bull" segment of Thursday night's broadcast.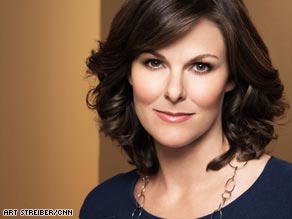 CNN's Campbell Brown says this story isn't clearly about good and evil.
(CNN) -- We're cutting through the bull, except that to be entirely honest about this, this is kind of murky.
We're not completely clear ourselves on where exactly "the bull" is on this story.
See what you think.
We're going to be telling you the story of a baby girl born in this country to parents on visitors' visas from China, a little baby girl who became the center of a very, very, very long court case.
Now, things might have been better if the American legal system hadn't taken years to act on the question of who ought to have the baby we're talking about, her birth mother and father, or the American couple that had been caring for her.
'No bias, no bull'
Get the latest on the day's main events on "Campbell Brown: No Bias, No Bull"
8 ET Monday through Friday on CNN

Indeed, the court system took so long that the baby became a toddler and the toddler became a little girl and that little girl is now not so very far from adolescence.
As for where she is now and with whom, well, the whole story is still to come. Read the little girl's story
Maybe the bull we're trying to cut through at the moment is the notion that every story is about good and evil.
Don't Miss
That every story has a hero and a villain and that right and wrong are always easy to tell apart.

Watch Campbell Brown's commentary »
Stay tuned and we think you'll agree that that isn't always so -- and that when it isn't the case, it breaks the heart.
The opinions expressed in this commentary are solely those of Campbell Brown.
E-mail to a friend