From Charley Keyes
CNN
WASHINGTON (CNN) -- Nuclear negotiations with North Korea have stalled but still could be reactivated before the Bush administration leaves office next month, chief U.S. negotiator in the talks Christopher Hill acknowledged.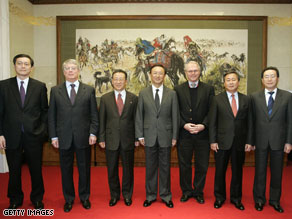 The latest round of six-nation talks in Beijing reached a stalemate, chief U.S. negotiator Christopher Hill said.
"Is it possible to do in the next week or the next four weeks? I don't know," said Hill, assistant secretary of state for East Asian and Pacific Affairs, at a Washington news conference Tuesday. "I would think it would be possible to do today, if they agreed to do it."
Hill just returned from Beijing, where talks broke down last week over North Korea's refusal to put in writing agreements its officials had made verbally. That would have finalized details of how to verify the abandonment of its entire nuclear program.
The sticking point has come down to what might be an additional half-page of text on definition of terms and the spelling out of various procedures and activities, Hill said
"They don't want to do a verification protocol now. And whether it is because they are waiting for the next administration, whether it's just because they don't want to do it now ... you'll have to ask the North Koreans."
The North Koreans may be "stalling" in hopes of better terms in the future, Hill conceded, but if they are, they might be misreading U.S. politics, he added.
"In fairness to them, the U.S. political system is a little different from theirs," he said. "And I am not sure they should be trying to draw conclusions on the basis of their understanding of our system."
Hill said he had talked with President-elect Barack Obama's transition team but gave no details of those discussions. "I don't want to get into speaking for the next administration," he said.
About what role he might play in the next administration, Hill said he hadn't talked to anyone about his future.
U.S. talks with its allies and North Korea, as well as Hill and his boss, Secretary of State Condoleezza Rice, have come under criticism from some political allies of the Bush administration. On Tuesday the Wall Street Journal ran an editorial titled "Condi's Korean Failure," saying North Korea "has never kept a commitment, verbal or written. Its negotiating habit is to make promises to win concessions, then renege on those promises."
Hill said it was important to remember that when negotiations began in 2005, North Korea was "merrily, busily producing plutonium" for nuclear weapons.
"Since ... the joint statement in September '05 they have not produced one gram of plutonium," Hill said. "And I think the six-party process can take some credit for that. ... I would argue that if we did not have a process, and had nothing, we would have a lot more plutonium to deal with. So I think it has been very important ... that we have disabled the facilities."
It was the six-party talks -- involving the United States, North Korea, South Korea, China, Russia and Japan -- that led to North Korea's agreement to disable the reactor that had produced plutonium for nuclear weapons.
The United States and its allies still require North Korea to give up the plutonium it already has, an estimated 30 kilograms, as well as details of any other bomb-producing programs it may have, including enriched uranium.
Concerning a key part of the earlier agreement, shipments of fuel oil to North Korea, Hill said, "As a practical matter, to go out and get additional fuel shipments from the international community is, to put it mildly, rather difficult right now because you are asking people to help a stalled process rather than a process that is moving forward."
E-mail to a friend

All About North Korea • United States • Nuclear Weapons • Christopher Hill