From Terence Burke
CNN
UNITED NATIONS (CNN) -- The United States is circulating a proposal that could allow military forces to enter Somali territory in "hot pursuit" of pirates, sources on the U.N. Security Council said Wednesday.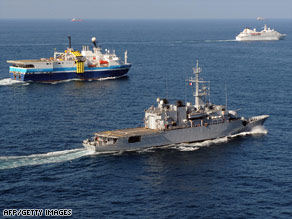 A French frigate, center, escorts ships off the coast of Djibouti to protect them from piracy last month.
A senior diplomat on the Security Council said the United States has distributed a text to the other five permanent members of the Security Council -- Britain, France, Russia and China -- that outlines its proposals.
The diplomats are discussing a proposal that would expand on existing powers national navies have to enter Somalia's territorial waters, including an initiative that could allow military forces to chase pirates onto sovereign Somali land in "hot pursuit," the sources said.
The U.N. Security Council passed a resolution December 2 that added 12 months to authorization for nations to enter Somali waters.
The latest U.S. initiative may be seen as a further response to a crisis that has "clearly escalated," according to a senior U.N. diplomat.
Pirate attacks in the waters off Somalia have shot up this year, with pirates staging increasingly bolder attacks on ever-bigger targets.
Pirates have attacked almost 100 vessels off Somalia's coast this year and successfully hijacked nearly 40, according to the International Maritime Bureau.
Freight and cargo ships, cruise liners and private yachts have come under attack. In many hijackings, pirates take the crew and passengers hostage and demand a ransom.
E-mail to a friend

All About United Nations • Somalia • Pirates