By Abbie Boudreau and Scott Zamost
CNN Special Investigations Unit
PHILADELPHIA, Pennsylvania (CNN) -- America's roads and bridges need critical repairs that would total $64 billion, and construction could begin within six months if the federal government makes the funds available, according to a new report.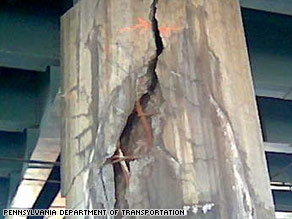 This bridge column in Pennsylvania was fixed this year. Interstate 95 was closed during the repairs.
The report, by the American Association of State Highway and Transportation Officials, surveyed all 50 states and found 5,148 road and bridge projects that are considered "ready to go."
"As Congress and the president-elect look at the issue of, can infrastructure play a major role in economy recovery, the first question they ask is, 'Can you deliver projects -- shovels in the ground -- quickly?' And what we've documented through the survey we've just completed is that yes indeed, we can," John Horsley, executive director of the American Association of State, Highway and Transportation Officials, told CNN.
The association estimates 1.8 million new jobs could be created if the infrastructure improvements are funded by Congress.

Watch how roads could create jobs »
"You've got states in every part of the country with projects that are ready to go that can put people back to work," Horsley said.
President-elect Barack Obama said over the weekend that he supports an economic stimulus plan that includes an overhaul of the nation's roads and bridges.
The association's report says Utah needs the most money for its infrastructure: $10.8 billion for crumbling roads and bridges. The rest of the top five are Florida with $6.9 billion in repairs needed, Texas with $6 billion, North Carolina with $5.1 billion and California with $5 billion. Read Abbie Boudreau's blog: "Are we a nation of procrastinators?"
No specific projects are named, but officials with the Pennsylvania Department of Transportation told CNN that parts of Interstate 95 in Philadelphia would be ready for major repairs to start if federal money were available. In March, an inspector found a large crack, 2 inches wide and 6 feet long, in one of the support columns under the interstate, prompting a closure of parts of the highway. The Pennsylvania Department of Transportation says the highway reopened 2½ days later after the problem was fixed.
Don't Miss
But problems elsewhere on the interstate remain.
"We have a serious problem in Pennsylvania," said Charles Davies, assistant district director for design with the state's Department of Transportation.
Davies said there is state money for basic maintenance, but he worries that without federal funding, needed overhauls won't get done. CNN asked Davies if he's worried something bad could happen with the highway.
"You sort of become fatalistic," he said. "I sort of feel like my luck is going to run out at some point. It just is."
Pete Sepp of the National Taxpayers Union, an organization dedicated to lowering taxes, cautions that it's a bad idea for Congress to pick up the tab for something the states are supposed to finance.
"Many parts of our infrastructure need to be repaired, need to be fixed, but they need to be done in a thoughtful manner," Sepp told CNN. "Throwing money out of Washington, D.C., and showering it across the country on state and local projects is not the way to do it."
The association is not the only group calling for major infrastructure spending. The United States Conference of Mayors on Monday released its own list of 11,391 "ready-to-go" infrastructure projects that would cost $73.1 billion. The report surveyed 427 cities across the country and covers roads, bridges, schools, city halls and other public works projects.
E-mail to a friend

All About Barack Obama • Economic Issues • Unemployment Rate • Internet