(CNN) -- Americans say the sagging economy is making the 2008 holiday season more stressful than previous years, according to a CNN poll out Monday, with up to two-thirds of them reporting some belt-tightening.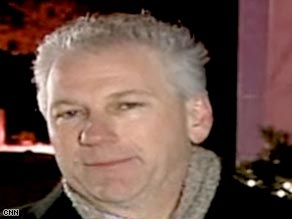 Brunswick, Ohio, City Manager Bob Zienkowski cut funding for the city's annual holiday celebration.
Four in 10 people questioned in the CNN/Opinion Research Corp. survey said the recession is adding stress to their holiday season.
The poll found 67 percent of the 1,096 adults questioned said they are cutting the amount they plan to spend on Christmas or Hanukkah gifts, and 65 percent said they are cutting back on leisure travel, dining out or going to the movies.
In the poll, 31 percent of respondents said they had cut back on necessities such as food or medicine, and 38 percent said they had cut heating or electric bills. Half said they have postponed a major purchase like furniture or appliances -- always a bad sign for the economy.
On CNN's "American Morning" on Monday, Kiran Chetry spoke to Bob Zienkowski, the city manager of Brunswick, Ohio -- a city of 33,000 located 19 miles from Cleveland -- about how the economy forced him to cut back on the city's holiday celebrations.
Kiran Chetry: Have people been calling you the Grinch, Bob?
Bob Zienkowski: Yeah, Kiran, they've called me the Grinch, and Scrooge, and a lot of names in between.
Chetry: So what did you guys have to do? I understand you're facing a nearly $2 million budget shortfall this year. You've had to tighten the budget in recent years. What are you scaling back on in terms of the holiday celebration?
Zienkowski: What we've done this year is when we've looked to balance our budget and try to contain costs, we looked at balancing between public safety, public services, and some of the the holiday decorations. So what we did is we cut back on the holiday decorations and the lights and the different set pieces that we have in efforts to save over $20,000. We typically had a holiday festival, we scaled back on that, and typically there were fireworks with that, also we eliminated those, which cost about $5,000.

Watch how one city has to cut back on holiday celebrations »
Don't Miss
Chetry: So what was the general reaction when people realized that the town wasn't looking like it usually does around this time of year?
Zienkowski: There were some interesting comments and e-mails, again went back to the different things of Scrooge and the Grinch. But as several days went by, there was a lot of support from the community that really spoke up about the city making the right decision to contain its costs, especially when looking at the national economy -- that this was a prudent move for the city to make. You can't spend money you don't have.
Chetry: Right, unless you're the federal government. But $20,000, is what you're saving right now?
Zienkowski: Correct.
Chetry: In the big scheme of things, $1.8 million is what you're coming up short, so obviously you're going to have to cut other things besides the holiday celebrations. What are other services you're seeing go by the wayside?
Zienkowski: We've cut back on some of our salting of our streets, not only with the saving there, but also with the costs almost quadrupling on that. We've reduced staff from 153 full-time employees to 141. We've maintained a budget of about $20.3 million, operating budget, which we had back in 2003, and the budget we submitted this year to City Council is $19.6 million. So given all the increase in costs of supplies and services, utilities, fuels, we think we've done a very good job at controlling and containing our costs. And actually, with the submission of this budget, with some additional revenues, we should have a balanced budget going into next year.
Chetry: ... The bright side for you guys is that some of the local businesses have tried to step up and fill in the gap for you. You have Medical Mutual of [Ohio] donating $10,000 to help you guys put up some lights this year.
Zienkowski: They did. Medical Mutual of Ohio stepped up very well for us this year. We have some residents that live in town here that work with Medical Mutual of Ohio and they thought that this would be something to help out the community, which was a great donation. They wanted to try to make it anonymous but again, with open records, we released the name, but I know that they've stepped up real well and we're going to have some of the decorations up this year.
Chetry: So a little bit of holiday cheer, small bright spot in what's really tough times for many, many cities across the country. Bob Zienkowski, the city manager for Brunswick, Ohio, thanks for joining us.
Zienkowski: Thank you.
E-mail to a friend

All About National Economy • Ohio