By Mythili Rao
CNN
NEW YORK (CNN) -- Former New York Gov. Eliot Spitzer started a new job this week, debuting as online magazine Slate's newest columnist.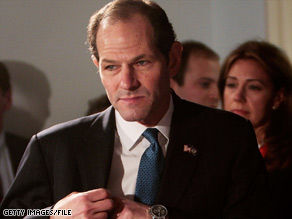 Former New York Gov. Eliot Spitzer wrote an online column criticizing the recent U.S. bailouts.
Spitzer, who resigned in March over a prostitution scandal, joined the magazine as the contributor of a feature on government called "The Best Policy." The column appears every other week and will primarily address policy solutions to current economic issues.
"The reasons for us are very obvious," Slate editor David Plotz told CNN. "We're in the middle of a huge financial economic crisis which we have the very tenets of American capitalism in question. He was intimately involved in understanding how markets function and the role the government should have and shouldn't have in the markets."
Spitzer's inaugural column, published Wednesday, took a critical look at the potential of current bailouts to "perpetuate a fundamentally flawed status quo."
In it, Spitzer argued that "None of the [bailout] investments has even begun to address the underlying structural problems that are causing economic power to shift away from the United States, sector by sector."
In recent months, Spitzer's thoughts on the country's financial crisis have appeared more than once on the pages of The Washington Post, Slate's parent company. The new column, however, will offer Spitzer a regular forum.
"We're delighted to have him," Plotz said.
In November, prosecutors announced that they would not be bringing criminal charges against Spitzer in connection with the prostitution scandal.
"After a thorough investigation, this office has uncovered no evidence of misuse of public or campaign funds," U.S. Attorney of the Southern District of New York Michael Garcia said in a statement.
"In light of the policy of the Department of Justice with respect to prostitution offenses and the longstanding practice of this office, as well as Mr. Spitzer's acceptance of responsibility for his conduct, we have concluded that the public interest would not be further advanced by filing criminal charges in this matter," said Garcia.
Spitzer resigned in March after it was revealed that he was among the Emperors Club's patrons -- "Client 9," according to court papers detailing the ring's workings. Court documents detailed arrangements for a nearly two-and-a-half hour rendezvous between Client 9 and a high-class prostitute -- identified as "Kristen" -- at the Mayflower hotel in Washington in February.
Spitzer was linked to the ring when IRS and FBI officials noticed suspicious transfers of larger sums of money between several of the governor's personal accounts, sources told CNN.
Those sources said that red flags were raised when the money ended up in the bank accounts of shell companies linked to the prostitution ring.
In June, the leader of the prostitution ring, Mark Brener, entered a guilty plea in federal court. Brener's Emperors VIP Club charged between $1,000 and $5,500 an hour for trysts in New York; Los Angeles, California; Miami, Florida; London, England; and Paris, France. Police seized more than $1 million in cash from his apartment at the time of his arrest.
E-mail to a friend

All About Eliot Spitzer