From Deb Feyerick
CNN
(CNN) -- When struggling homeowner Eddie Morrison heard about the government's $700 billion bailout plan for banks and Wall Street firms, he felt left out.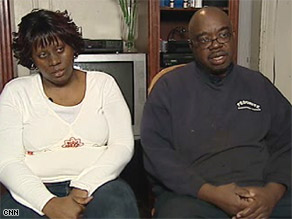 Corintha and Eddie Morrison say the loan-modification plan offered to them has let them keep their home.
Morrison, a truck driver making $65,000 a year, was dreadfully behind on his mortgage. He was sure that a foreclosure letter would hit his mailbox soon.
His wife, Corintha, was also on edge and dealt with the pending doom by packing their belongings.
But the Morrisons were saved when their mortgage holder, California-based IndyMac, was seized by federal regulators recently. The new administrator of the failing bank, Federal Deposit Insurance Corp. Chairman Sheila Bair, put a freeze on foreclosures, giving people such as the Morrisons a chance to create a loan payment they can afford.
Bair said she thinks it is critical to tackle the root of the economic crisis by helping homeowners like the Morrisons nationwide.
Bair has proposed giving homeowners who are 60 days late on their mortgage a chance to reduce high interest rates and extend the length of the loan if they qualify.
But, Bair said, she has found some resistance from Washington critics who say the proposal is a subsidy for troubled homeowners.
"We could prevent 1.5 million foreclosures from occurring," Bair said. "I've been in Washington a long time, and why we haven't been able to garner the political will to tackle the problem more aggressively at the borrower level has been somewhat mystifying to me."

Watch Bair explain plan's potential benefits »
Don't Miss
Bert Ely of the Cato Institute, a Washington-based public policy research foundation, said Bair's plan may help people who are just not financially strong enough to own a home.
"In many cases, they would actually be better off giving up the home and renting for a while, restoring their financial health," Ely said.
But the Morrisons say they like the plan. Bair's IndyMac loan-modification program dropped their payment from $3,200 per month to $1,900 per month for five years. After that, the payments start to go back up.
"It is not a bailout because I still have to pay," Morrison said.
Bair said she wants to move forward with her plan so that she can help more families like the Morrisons. She said she thinks her program could prevent 30 percent of foreclosures expected over the next two years.
"We think it works. We have the data to show it works," Bair said. "So I wish we could all make a decision and move forward with it."
Bair said she and her FDIC staff have been in talks with the transition team of President-elect Barack Obama about staying on to do work she said she's very happy doing.
E-mail to a friend

All About Federal Deposit Insurance Corporation • Sheila Bair