(CNN) -- Long lines, empty shelves and Thanksgiving chickens are just a few symptoms of the economic downturn's effect on food banks and community pantries across the country.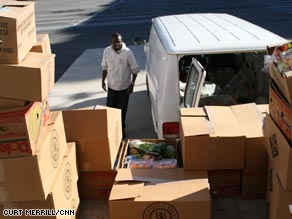 Shawn Wray picks up a food donation Tuesday to distribute to families in need in Atlanta, Georgia.
People are turning to charitable organizations for their Thanksgiving meal this year in record numbers, while donations have dropped significantly and funding has been slashed.
Charity organizers across the country say the lagging economy has forced individual donors to keep money to themselves, while businesses that usually donate are struggling to stay afloat.
As of Tuesday, the Care & Share Food Bank of Southern Colorado had about 95 turkeys in its freezer, a far cry from the 6,000 it needs to spread among 430 charities in the region.
The Sacramento Food Bank in California has about 2,000 turkeys, but it needs at least 1,000 more. Since August, the number of new clients has risen 20 percent, and it now serves about 16,000 people each month.

See how middle-class families are now among the needy »
"This could be one of our biggest years for food giveaways," food bank president Blake Young told CNN affiliate KXTV-TV in Sacramento.
The Nations Association food pantry in Fort Myers, Florida, has about 250 turkeys and more than 800 families asking for food, with people starting to queue for the goods on Monday, Rev. Israel Suarez told CNN affiliate WINK-TV.
Earlier this year, organizers of the Johnson County Thanksgiving Banquet in Franklin, Indiana, had planned on serving 100 meals. So far, they've received about 650 reservations and they're expecting as many as 1,000, LaTheda Noonan told CNN affiliate WISH-TV.
Don't Miss
The number of people seeking assistance from Franklin's Interchurch food pantry, which provides 50 families with canned goods each day, also has increased.
"We are already serving 39 percent over what we served the same time last year and serving 79 percent over what we served in 2006," Noonan told WISH.
Food pantries are no longer strictly the realm of the low-income or "working poor," Lynda Schuyler, executive director for Food Pantries for the Capital District in Albany, New York, told CNN affiliate WNYT-TV.
Nowadays, more "middle-class poor" families with two incomes from the suburbs are seeking assistance from her organization.
"They don't know who to call. They don't know who to ask. They don't know where to start. They've never had to ask for food," Schuyler told WNYT.
In many areas, donors from years past are becoming this year's seekers.
"We are actually serving families that didn't need us before. Some of them were actual donors and now they're on the other side," said food bank supervisor Griselda Romero in Kern County, California.
The wide gap between supply and demand combined with funding deficits has forced some food banks to turn away new applicants and cease distribution.

Watch how you can help »
The Burton Senior Center in Burton, Michigan, this week stopped handing out food and turned away new applicants because of cuts to a federal commodity food program, according to CNN affiliate WJRT-TV in Flint.
"I don't think its right," Helen Eanes of Flint told WJRT. "Seniors aren't getting enough now as it is, and they keep taking away from us."
"It seems like they're picking on the people who are poor and letting the big shots get away with everything," Beverly Wilkins of Burton told WJRT.
It may seem like a dire situation. But volunteers and organizers, who are used to relying on hope and the kindness of others, are figuring out ways to stay afloat.
On Monday, 150 families left Grace Baptist Church in Oakland, California, with Thanksgiving chickens owing to a scarcity of turkeys.
"Nothing wrong with chickens. It's meat," the Rev. Charles Hopkins told CNN affiliate KGO-TV. "You can mess up a turkey, but you can't go wrong with a chicken."
South Colorado's Care & Share is encouraging donors to purchase smaller birds or cheaper brands, saying that every bit counts.
Boy Scout and Girl Scout troops and other youth organizations across the country have been conducting food drives.
At the Nations Association food pantry in Fort Myers, miracles do occasionally happen.
On Monday, Alex Wynter and his wife drove up with a car full of 100 turkeys, paid for out of their pockets. Soon after, the Cypress Lake United Methodist Church donated 200 turkeys to the Nations Association, according to WINK.
Only 250 to go.
E-mail to a friend