From Richard Roth
CNN
NEW YORK (CNN) -- Saif al-Islam Gadhafi, the eldest son -- and heir apparent -- of Libyan leader Col. Moammar Gadhafi, said he'd like to see "shock treatment" democratization in his country, while his father wants a slower pace.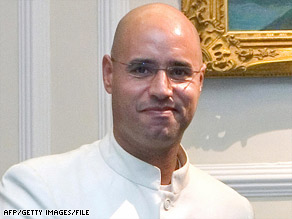 Saif al Islam Gadhafi has been credited with convincing his father to compensate victims of a 1988 bombing.
The younger Gadhafi has been credited for steering his father toward a path of normalized relations between Libya and the United States after years of tension and conflict. In this decade, Libya has renounced weapons of mass destruction and cooperated on intelligence matters with the United States.
The Libyan leader's son met Thursday in Washington with Secretary of State Condoleezza Rice. He described his talk with her as a courtesy visit and not a formal meeting. The two discussed Russia, Georgia, piracy in Somalia and other global issues. Rice was "a smart lady with great knowledge," he said.
The visit with Rice and a phone call this week between U.S. President George W. Bush and his father, who has ruled Libya since 1969, signify "a celebration and a turning of the page," Gadhafi said.
Relations between the two countries, never very steady, deteriorated after a three-year investigation into the December 21, 1988, bombing of Pan American Flight 103 over Lockerbie, Scotland, that ended with indictments for murder against two Libyans.
The bombing killed 270 people aboard the jet and on the ground.
The United Nations imposed sanctions on Libya, and eventually negotiated the surrender of the two suspects. One of the two was acquitted, but Abdel Basset Ali al-Megrahi, a Libyan intelligence officer and the head of security for Libyan Arab Airlines at the time, was convicted of murder and sentenced to 27 years in prison by a panel of Scottish judges.
Don't Miss
Libya later complied with the U.N. requirements for having the sanctions lifted. Those requirements included accepting responsibility for the attack and providing compensation to the families of the victims. The north African nation has now been a member of the U.N. Security Council for two years.
However, Gadhafi repeated Libyan insistence that it had "nothing to do with Lockerbie," saying that Libya made the agreements it did -- including paying $1.5 billion to the victims' families -- to escape sanctions.
Recent agreements clearing up the final legal wrangling over the settlement have opened Libya to the possibility of using its billion-dollar investment fund on "big opportunities" in the United States, Gadhafi said, even though the world is embroiled in a "financial tsunami."
"It's a very serious financial crisis," he said. "No one knows anything. Everything has been upside down."
Libya is awash in oil money, although it has been impacted by the dramatic fall in oil prices recently, Gadhafi said. The crisis, he said, is larger than what the Organization of the Petroleum Exporting Countries (OPEC) is used to dealing with.
"We are concerned, of course, because we are exporting oil to Western states, and whether it is a depression or a recession, it is going to effect oil prices," Gadhafi said.
Although the economic downturn is bad for everyone, Gadhafi said, it does create opportunities for investment. Gadhafi said the Libyan leadership will seek to invest in its own country in infrastructure, health, education and police sectors and is inviting more American companies to come to Libya for business, especially in the oil, gas, and construction business.
Gadhafi, educated in Western schools, also said he'd like to see more Libyans able to seek education abroad. He said they could benefit from studying in the United States, which he called a "great country."
E-mail to a friend

All About Libya • Moammar Gadhafi • Condoleezza Rice • Pan American Airways • Lockerbie