By Jim Kavanagh
CNN

ANNA, Ohio (CNN) -- Many people in the diner know someone working in the car industry. They are certainly in car country -- there's an engine factory down the road, and they live between Ohio's major plants and the Detroit home of the industry.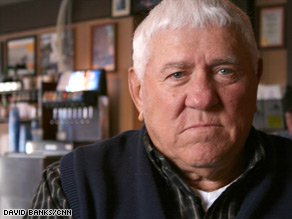 Will Vetter believes bankruptcy could be the best solution for a company like GM to make changes.
You don't have to go far in any direction to find a threatened auto plant. But the diners and staff aren't convinced a proposed $25 billion bailout is the right thing to do.
The car industry in their neighborhood is doing well -- the Honda engine plant in Anna, Ohio, sits amid lots crowded with employee vehicles, ringed by carefully trimmed trees and endless farm fields beyond. It recently underwent a $75 million, 135,000-square-foot expansion.
The success of the factory, which Honda says has built 15 million engines from scratch since it opened 23 years ago, has been spread beyond Anna, which lies in western Ohio between Dayton and Toledo.
"Honda's really helped this area as far as housing, retail sales, the restaurant business," said Tim Rogers, who has owned the Inn Between Tavern in Botkins, just up the road from Anna, for 33 years.
"People who are in here at night are also Honda employees. They have more money to spend. My business has been good since Honda came into the area."
The Inn Between's waitresses are busy delivering the lunch special of breaded chicken, mashed potatoes and green beans to a stream of customers who work at different places but all seem to know one another.

Hear what the diners think of a bailout »
The banter is raucous and sustained, and when the conversation turns to a proposed federal bailout for U.S. automakers, there is little support for the idea.

Watch CEOs ask Congress to help the auto industry »
Don't Miss
"I don't think they should bail them out because ... obviously something's not right in the way they're running their business, and why should the American people have to bail them out if they can't figure out how to do it right?" September Quinn, one of the busy waitresses, said after the lunch rush at the Inn Between.
She holds the unions just as accountable as the companies for the industry's problems.
"People agree with the unions because the workers want to be backed on everything, but then again, there aren't people striving to do their job better," said Quinn, whose father works at the nonunion Honda plant. "They've just got Papa Bear to back them up in any instance, and they keep their job. And you can do that, but I don't know at the cost of what." iReport.com: How are the auto industry's struggles affecting you?
John Lenhart, a consultant with Plastipak Packaging in Jackson Center, Ohio, and an officer with the Sidney-Shelby County Chamber of Commerce, said any bailout should have strong strings attached.
"Unless I'm missing something here, the key to it is, they should put in a game plan and execute it, with serious restraints and serious reorganization," said Lenhart, a former five-term sheriff in Anna's Shelby County.
His Plastipak colleague Will Vetter also said any bailout should have strings attached.

See how many plants GM has in your state »
"If you just give them money, you will get same-old, same-old results," he said after lunch at the Inn Between. "They're not prepared to downsize their businesses fast enough and to eliminate their costs at a rate that will make them profitable."
Vetter suggested that bankruptcy would allow GM to make significant changes faster, because a judge could void labor and supplier contracts, debts could be restructured, and Congress would not be involved.
"I guarantee in bankruptcy you can move really fast. You're only dealing with one person. You don't have three or four hundred people you're towing along at half-speed."
Both men said the nation and its auto industry will find a way to survive no matter what happens to GM.
"The country's got some ills, but we'll heal up," Lenhart said. "We'll be all right."
E-mail to a friend

All About Cars and Car Design • American Honda Motor Co. Inc. • Ohio