(CNN) -- The U.S. economy is like a stack of blocks with the troubled auto industry at its base -- or at least that's how iReporter Jennifer LeMay sees it.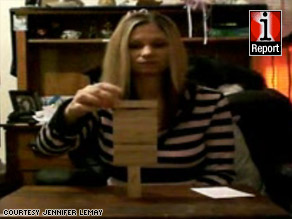 Small-business owner Jennifer LeMay fears the U.S. economy will collapse if the auto industry goes bust.
Executives from Ford, General Motors and Chrysler were on Capitol Hill this week to ask lawmakers to loan them $25 billion. The money might come out of the $700 billion government bailout fund originally designed for the financial sector.
GM warns that it will run out of cash in months if it doesn't get help.
LeMay, who runs a clothing store in Martinsburg, West Virginia, opposed the bank bailout, but said the prospect of the auto industry collapsing "is a lot scarier."
"Everything is linked," she said, using Jenga blocks to show how a collapse would hurt companies that sell steel, electronic components and even "the mass amounts of something as simple as paper towels." iReport.com: Economic problems stacking up
And she says if millions of workers lose their jobs, there will be fewer customers for small businesses like hers, fewer taxpayers, and fewer investors in the stock market.
"It's not just bailing out the auto industry, it's bailing out all these other industries," LeMay said.
Don't Miss
Barbara Pressler said she's afraid that if GM goes bust, her husband will lose the pension he worked 36 years to earn.
"Everything is so bad up here we're barely getting by here with his pension and his disability check from social security," the 62-year-old Whitemore Lake, Michigan, woman said. iReport.com: Bankrupting GM will bankrupt us
Pressler's 88-year-old father and her sister-in-law also retired from GM and rely on their pensions from the company.
But Ian Brooks, a 24-year-old filmmaker, said the Big Three don't deserve to survive and that $25 billion would be wasted.
"If we do bail out the American automotive industry, it will not improve. These companies have been losing ground, producing bad products for years and years and years," he said. "They've had all this time and money to fix themselves and make better products and they haven't done it."
"The government does not exist to save crappy products," he added. iReport.com: Ciao American cars
Barbara Rademacher, a 57-year-old math teacher from Bentonville, Arkansas, said the Big Three "need to go down."
"They're making a product that's bad for life on earth, they've brainwashed us into thinking that we want gas-guzzling trucks and SUVs and now it's like their karma is hitting them in the face," she said.
Rademacher said Congress should focus on "rebuilding America" by fixing bridges, highways and other infrastructure projects.
"Take the money that the car companies want and instead fund companies that will hire the worker from the car companies and from the associated industries and put them to work doing the work we really need," she said.
Many supporters of a bailout want the companies to agree to make more fuel-efficient, innovative and reliable vehicles before they get the money. iReport.com: Tanks for the money
"If they continue creating cars that just can't compete they're just going to be in the same position a year or two from now," LeMay said.
David White said the automakers need to commit to making better cars that Americans want to buy.
"I don't want to see anybody lose their jobs, but I'm not going to invest my money on anything that doesn't serve me well," White said. iReport.com: 'We expect better'
Kevin Neugebauer, of Katy, Texas, said taxpayers should only help the automakers if they promise to close their overseas plants and bring manufacturing jobs back to the United States. iReport.com: 'Take it or leave it'
"There's no way that Americans are going to support your companies when you shut down plants and send those jobs overseas," he said. "Bring the jobs back, you get your money."
E-mail to a friend

All About General Motors Corporation • Ford Motor Company • Chrysler Group • Trucks and SUVs