(CNN) -- California's Supreme Court said Wednesday that it will hear the appeal of a challenge to Proposition 8, a voter-approved measure outlawing same-sex marriage.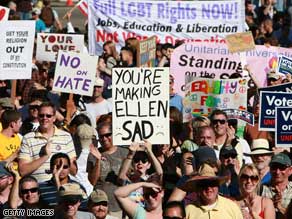 California's voter-approved measure banning same-sex marriage has sparked protests throughout the state.
In a written statement, the court said it will not block the implementation or enforcement of the law in the meantime.
Proposition 8 passed with about 52.5 percent of the vote, making California one of several states to ban same-sex marriage in the November 4 elections.
But unlike the other states, California had already been issuing marriage licenses to same-sex couples since May, after a state Supreme Court ruling legalized the unions.
The American Civil Liberties Union, Lambda Legal and the National Center for Lesbian Rights filed legal challenges to the vote, asking the high court to rule the ballot-initiative process was "improperly used" to strip away a right protected by the state constitution. iReport.com: Share your view on same-sex marriage
The court said arguments in the case could be heard as early as March.
Don't Miss
In its May 15 ruling legalizing same-sex marriage in California, the justices seemed to signal that a ballot initiative like Proposition 8 might not be enough to change the underlying constitutional issues of the case in the court's eyes.
The ruling said the right to marry is among a set of basic human rights "so integral to an individual's liberty and personal autonomy that they may not be eliminated or abrogated by the legislature or by the electorate through the statutory initiative process."
In the hours after the proposition's apparent passage, thousands of protesters took to the streets of Los Angeles and other cities across California in protest.
Observances in support of same-sex marriage were held in cities across the country Saturday.
E-mail to a friend

All About Same-Sex Marriage • California Supreme Court