From Allan Chernoff
CNN
(CNN) -- Fred Wadsworth sat at breakfast Monday morning wondering how he'll put food on his table from now on.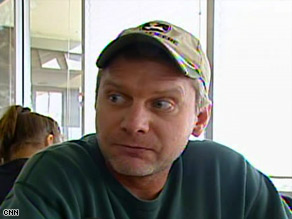 Fred Wadsworth, one of 8,000 employees facing layoff, says he doesn't know how he'll put food on his table.
He is one of more than 8,000 employees facing layoff after DHL announced it will close its hub in Wilmington, Ohio.
Residents in Wilmington knew DHL was going to cut jobs, but Monday's confirmation has delivered a devastating blow to the community. DHL is the area's largest employer.
"It's pretty bad," Wadsworth said. "We've been kind of figuring something's gonna happen, and as it stands now, we know that it's gonna shut down."
About 3,000 residents of Wilmington and Clinton County work at the DHL hub, with the rest of the workers coming from five surrounding counties.
Wilmington, which has a population of 12,000, will be dealt the biggest blow in terms of job loss.

Watch Ohio residents talk about the devastating cuts »
The town was already reeling from DHL's decision six months ago to have UPS take over the service's domestic air shipping, which put thousands out of work.

Watch what the cuts mean for workers, DHL »
"They're taking away everything from me, my family, my friends -- this whole town," DHL employee Sherry Barrett said as she wept during an interview.
Don't Miss
Ohio officials were scrambling over the weekend to offset the expected job cuts. Sen. Sherrod Brown, D-Ohio, sent a letter Friday to DHL Chief Executive Officer John Mullen asking for immediate information about layoffs in the Wilmington area.
According to a statement from his office, Brown also called U.S. Deputy Secretary of Labor Howard Radzely "to seek immediate attention to a state of Ohio request for emergency funds to assist workers and communities affected by DHL's loss in business since announcing a proposed outsourcing agreement with UPS."
Ohio is already grappling with one of the highest jobless rates in the country -- 7.2 percent in September -- and Wilmington Mayor David Razik had prepared himself for the worst.
"Given the state of the economy and the worldwide economic collapse, we know it can't be good news," he said Sunday night. "Freight is down significantly, DHL is losing customers, they have laid off sales personnel in other locations. We really think it's certainly not going to be good for Wilmington."
DHL said its DHL Express unit will continue to operate between the United States and other nations. But the company said it is dropping "domestic-only" air and ground services within the United States by January 30 "to minimize future uncertainties."
DHL's 9,500 job cuts are on top of 5,400 cuts announced in May. After the layoffs, between 3,000 and 4,000 employees will remain at DHL's U.S. operations, the company said. The company also said it is shutting all ground hubs and reducing the number of its U.S. stations to 103 from 412.
President-Elect Barack Obama and Sen. John McCain, R-Arizona, took note of Wilmington's troubles during the race for the White House. Obama said Wilmington "gives you some sense of the urgency that we feel when it comes to our economy." McCain said he was "deeply troubled by the specter of job loss confronting Wilmington."
"My husband's been there for 19 years and we've been worrying about this -- everybody in this community has," Joy McIntosh said.
Insurance agent Eric Welch is giving up on Wilmington and shutting his business by the end of the week.
"I don't see the long-term future in this community for me as an insurance agent to be very rewarding," said Welch, who is leaving town.
E-mail to a friend

All About Wilmington